NC State Dining Implements Quarantine/Isolation Housing Meals for On-Campus Students
NC State Dining is providing meal options for those students who have or will be affected by COVID-19 via quarantine and isolation housing.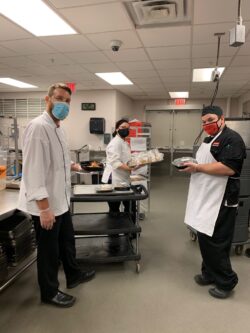 Students who live on-campus or in Fraternity/Sorority housing are able to qualify for these healthy, nutritious meal options. NC State Dining's nutrition team is ensuring that all dietary restrictions are accommodated and that every member of the Pack is well fed.
If a student is assigned to quarantine/isolation housing, they will receive:
An introductory meal kit that includes snacks, beverages, and breakfast items (designed to cover 2-3 days). 

An email with a form requesting their meals for the week, including any dietary restrictions, in which the nutrition team will reach out with follow up questions.

Meals delivered once per day between noon and 1 p.m. (enough food for two meals). 
Students who arrive after the lunch delivery, we will provide dinner delivery between 5 and 6 p.m (enough food for two meals). If a student is running low on non-perishable items provided in their meal kit or would like to request other items, they can contact wellfedwolfpack@ncsu.edu for replenishment for their next meal delivery.
The nutrition team follows up at the end of the week to 
determine if the student will need food for the following week. 
If students have any questions or concerns, they should reach out to wellfedwolfpack@ncsu.edu.
Meal costs are covered as follows:
On-Campus Students with a Meal Plan:
Quarantine meals are included for students enrolled in "Core" Meal Plans (Dining Hall Plan, Flex Plan and Flex Plus Plan)

Students enrolled in Block Meal Plans will be charged two meals per day.

Commuter Plans and Dining Dollar accounts will be charged $15.00 per day.
On-Campus Students without a Meal Plan:
Delivered meals will be charged to the student's account at a rate of $15 per day.
Students living in Fraternity/Sorority Housing:
For students that live in a house without a meal service, NC State Dining will charge delivered meals to the student's account at a rate of $15 per day.  
For more information concerning NC State Dinings' commitment to ensuring healthy meals for students during quarantine/isolation, contact NC State dining at 919.515.7012 or email wellfedwolfpack@ncsu.edu.