NC State Healthy Campus Week to be Held September 24-28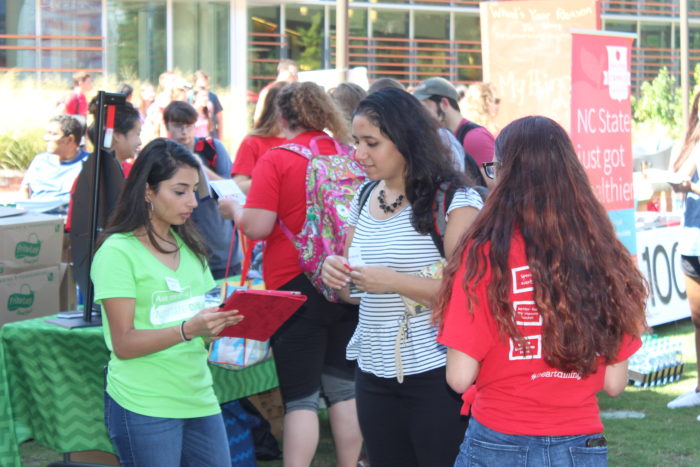 NC State is proud to host Healthy Campus Week this year from September 24-28, 2018. The week-long observance of healthy living is expected to be a huge success for students, faculty and staff here at NC State. As one of the leaders in healthy campus initiatives, NC State is planning on hosting a variety of engaging events throughout the week.
Monday, September 24 is "Mental Health Monday." Students are invited to attend an interactive tabling event that focuses on decreasing  stress to promote strong mental health, featuring a DIY aromatherapy activity using dried lavender and relaxing, natural fragrances. The aromatherapy event will take place from 9:00 a.m. – 11:00 a.m. in front of Hunt Library and 11:00 a.m. – 1:00 p.m. in Talley Student Union.
Tuesday, September 25 is "Try Something Tuesday." Students are encouraged to try new things, especially new foods. Blender bikes will be available for students to try unique smoothie combinations and will have a chance to blend their own smoothies.  ThriveWell staff will also have a table with valuable program offerings at Wellness and Recreation. The blender bike activity will take place from 11:00 a.m. – 1:00 p.m. in Wolf Plaza.
Wednesday, September 26 is "Fresh Check Day." This nationwide function is an uplifting mental health promotion and suicide prevention event, featuring interactive expo booths, peer to peer messaging, free food, entertainment, and exciting prizes. NC State will feature 13 different booths, ranging from topics on self-love, mental health, women's issues, relaxation, stress, body positivity, fitness, and more. The 2nd annual NC State Fresh Check Day will be hosted on Stafford Commons at Talley Student Union from 11:00 a.m. – 2:00 p.m.
Thursday, September 27 is "Transportation Thursday." While there are many different forms of transportation to get around campus, we will be focusing on using bicycles. There will be an outdoor Lime Bike ride led by Outdoor Adventures staff. The ride will begin at Carmichael and end along Hillsborough Street near the Belltower. Following the event, there will be a raffle for a bike and helmet. The Lime Bike ride will run from 6:00 – 6:30 p.m., with the raffle following the ride until 7:30 p.m.
Friday, September 28, the final day of Healthy Campus Week, is "Fitness Friday." NC State will offer two separate outdoor yoga classes for students to relax and destress after a long week. Centennial Campus will host the morning yoga class from 9:00 – 10:00 a.m., and Stafford Commons will host the afternoon yoga class from 12:00 – 1:00 p.m. The afternoon yoga class will also feature a variety of yogurt for participants following the activity.
NC State Dining, along with campus collaborative partners Wellness and Recreation, Counseling Center, Student Health, Alcohol and Other Drugs, and others, strive to help make NC State the healthiest university in the country. NC State has been a pioneer in healthy food options, food allergies, and engaging events- but they aren't done yet. The collaborative efforts of campus partners and Healthy Campus serve as a reminder to live each day healthfully.
NC State Dining's Director of Nutrition and Wellness and Registered Dietitian, Lisa Eberhart, emphasizes that these events are focused on raising awareness that can continue throughout the year. "We want Healthy Campus Week to become Healthy Campus 'Year' for our students, faculty and staff. This week is about promoting healthy habits that will hopefully carry on long term. This initiative is a great starting point."
NC State Dining is a service of Campus Enterprises, the lead division for retail and hospitality on the NC State campus. For more information on NC State Dining's Health and Wellness program visit dining.ncsu.edu/healthwellness or contact Lisa Eberhart at 919.513.5310 or ljeberha@ncsu.edu.