Peet's Coffee Arrives On Campus
Peet's Coffee, a national brand known for its signature dark roast, is now available at two popular coffee shops on campus, Common Grounds and Hill of Beans, as well as 1887 Bistro in Talley Student Union.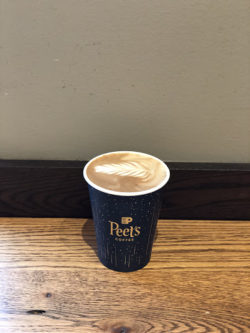 Peet's Coffee began in 1966 after its founder and world-traveler, Alfred Peet, brought dark roast beans to the United States.  He became a main contributor to what is now known as the "gourmet coffee revolution."
Justin Fahey, a representative of Peet's Coffee, speaks highly of the brand's reputation for quality.
"Peet's Coffee offers the freshest roasted coffee on a national scale, he said. "Our coffee is roasted by hand in small batches."
The new coffee brand also supports a few of NC State Dining's continuing goals like sustainability and social responsibility.
Partnering with the non-profit TechnoServe, Peet's Coffee brings high-quality training to future coffee bean farmers around the globe. Their "Farmer Assistance" program focuses training efforts in three areas: agronomy and quality, business skills and sustainability. Their ultimate goal is to increase economic development and quality of life within small farming communities.
For more information about Peet's Coffee, visit: www.peets.com/.