Shawn Hoch named Senior Director of Hospitality Services
Shawn Hoch has been named senior director of hospitality services for Campus Enterprises at NC State University. Shawn will be responsible to lead strategic planning and innovation for NC State Dining and related hospitality units consistent with the goals for Campus Enterprises, the Office of Finance and Administration, and the university at large.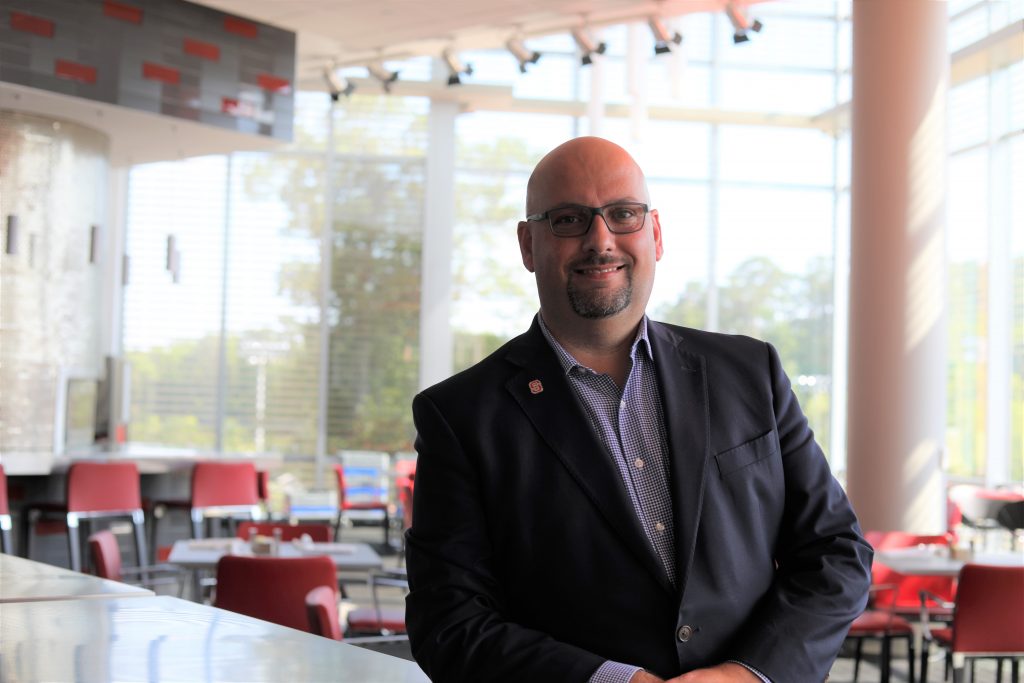 A repeat Top 25 Power Player in College Dining and Food Management Magazine's 2015 College Innovator of the Year recipient, NC State Dining is nationally known for its innovations in menu transparency and helping students with food allergies and other dietary concerns. NC State Dining is a $50 million operation with almost 1,200 employees and 40+ concepts and business components including quick-service retail, full-service restaurants, residential dining, catering, C-Stores, cafes, vending and athletic concessions.
"Shawn's eight years as associate director of NC State Dining have prepared him well to lead the department," said Rich Berlin, associate vice chancellor for Campus Enterprises. "His work to build a strong culinary program at NC State, including mentoring many chefs to reach their CEC certification, has created a culture truly passionate about food. This ongoing commitment to the culinary arts combined with his experience with facility design and construction will be important cornerstones for Dining's future development. Shawn has helped bring distinction to NC State Dining, and our combined culinary staff has earned more than 40 ACF medals and national awards since he joined the university."
Shawn holds an associate's degree from the Western Culinary Institute and a bachelor's degree in business administration with a concentration in hospitality management from American Intercontinental University. Shawn has served in university dining leadership positions at Case Western Reserve University and Washington State University in addition to fine dining and healthcare management. He has received several awards, including Premier Inc.'s  2019 Illuminating Excellence award and 2016 Spirit Award, and was 2007 Citizen of the Year in Lima, OH, for his work with intercity youth in vocational culinary training.
He is also engaged at the national level representing NC State serving as NACUFS Regional Conference co-chair and on the Body of Knowledge taskforce, presenting and speaking on panels. He is a member of the Premier GPO-national purchasing group, a food committee overseeing $3.4 billion in food contracts. Shawn also works with local culinary programs such as Durham Tech and the Wake Tech Advisory Committee.
Shawn is very active on campus working with students, campus leaders, faculty and staff. He continues to be central to the department's efforts in addressing food insecurity at the university through the Pack Essentials program, specifically the Feed The Pack food pantry steering committees and the NC State Agroecology Farm.