Simply Made Station Collaboration – Street Taco Creations
On Wednesday, January 18, patrons of Fountain Dining Hall found themselves hungry and excited for a different type of meal than the daily Fountain staples. NC State Dining partnered with Unilever Food Solutions to bring guest chef JC Lopategui to the Simply Made Station for a delicious and nutritious lunch of street tacos.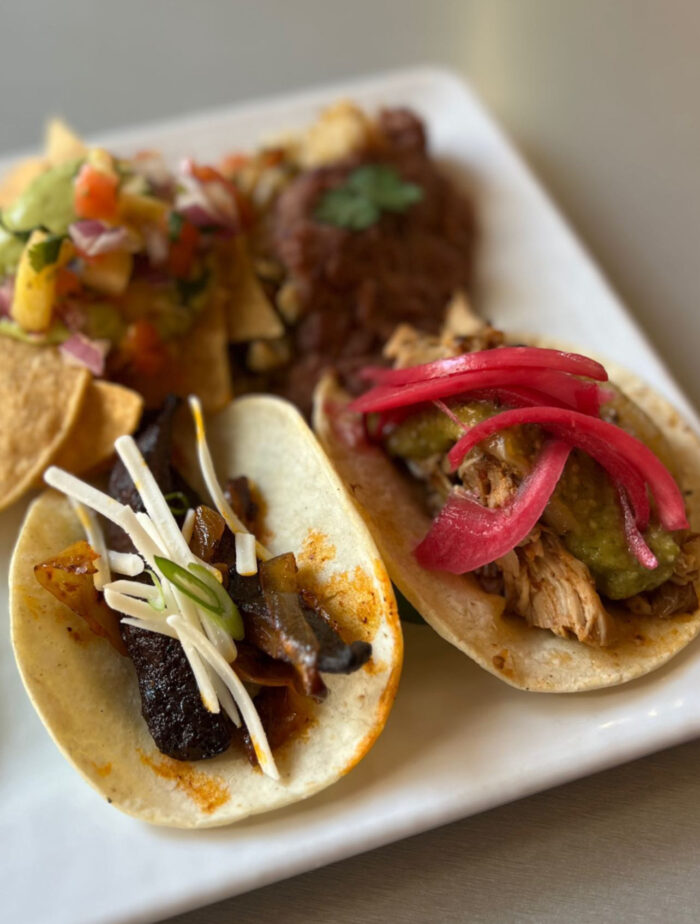 Lopategui, who has spent over two decades as a chef, developed the street taco menu with the requirements of the Simply Made Station at the forefront of his mind. All the tacos and their toppings avoided the top 9 allergens: dairy, eggs, fish, shellfish, tree nuts, peanuts, wheat, soybeans, and sesame. The allergy-friendly menu included two types of tacos: Portobello Mushrooms Al Pastor and Chicken Tinga, served with Mexican Rice, Refried Beans, and a variety of toppings, such as vegan Queso Fresco, two types of salsa, Pickled Red Onions, Carrots & Jalapenos, and more. 
While students enjoyed the tasty collaboration for lunch, NC State Dining and Unilever representatives were busy collecting feedback on the meal, especially the specific menu items that students enjoyed the most. Students who participated in the feedback survey were entered into several giveaways provided by Unilever for prizes, such as shirts and other merch. After immense success with their first takeover in the fall of 2022, this second Simply Made Station collaboration with Unilever found even more of a positive response, with students loving the simple but tasty and nutritious tacos. 
Since its introduction to Fountain Dining Hall at the beginning of the 2022 fall semester, the Simply Made Station has been met with outstanding responses. Students with and without dietary restrictions have found the station a great alternative for healthy, simpler meals that draw attention to the importance of eating balanced food well suited to your body's needs.  
Unilever Food Solutions is an offshoot of the Unilever company and is a longstanding partner of NC State University and NC State Dining.