Special Dietary Needs
The goal of our nutrition and wellness program is to enable, educate and encourage our campus community to adopt and lead healthier lifestyles. We recognize there are a number of students, faculty and staff on campus who have special dietary needs, such as allergies, intolerances and dietary preferences. Our team is dedicated to meeting your nutritional needs by providing nutrition resources, education, and awareness across campus.
Navigating with Allergies, Intolerances and Special Dietary Needs
Step 1: Familiarize yourself with our allergen icons shown below.Step 2: View the Food Allergy Guide and learn about available resources, including:
Daily online menus with full ingredient lists and our nutrition analysis feature.
Allergen icons listed on our digital menu boards, touchscreens, and menu cards.
Retail locations that provide gluten-free and dairy-free alternatives.
Step 3: Interact with our Well-Fed Wolfpack nutrition team:
Schedule a free consultation with our nutrition team by calling 919.513.5310 or contacting wellfedwolfpack@ncsu.edu.
Join our allergy eMinder for up-to-date news and menu highlights.
Allergies and Intolerances
NC State Dining is recognized nationally for our work to ensure students with food allergies and intolerances can confidently dine on campus. We mark the eight major food allergens (gluten, dairy, eggs, fish, shellfish, tree nuts, peanuts and soy) in all of our dining locations.

For guests who need to avoid gluten or dairy, we have a special worry-free station at each dining hall. It has a separate fridge stocked with dairy-free food and gluten-friendly (made without gluten) items, plus a separate toaster to prevent cross-contact.
If you have a food allergy or intolerance, be sure to:
Review the resources we provide you and do your best to avoid your food allergen. Always feel welcome to contact our nutrition staff at wellfedwolfpack@ncsu.edu with any questions or concerns.
When in doubt, avoid any ingredient or dish if you are unsure it is safe or ask the manager on duty for more information.
Read the food labels that are available to you. Our menu boards, nutrition kiosk, and online menus display the entire ingredient list for every menu item that is served.
Be able to recognize the symptoms of your allergic reaction and know the proper use of medications for your reaction. If you have an EpiPen, carry it with you at all times and be prepared to use it. Our staff is not trained to administer an EpiPen.
Review our Food Allergy Guide and Allergy Disclaimer below.
Vegan and Vegetarian Dining
We offer a wide array of tasty vegetarian and vegan options at every meal in the dining halls and at many of the campus restaurants. Look for the icons next to menu listings online and in our locations.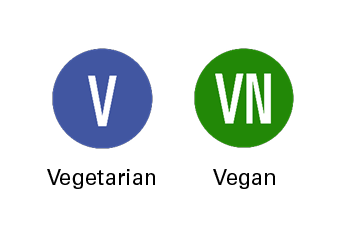 Contact our nutrition staff, ensure you are meeting your nutritional needs.
Email wellfedwolfpack@ncsu.edu to join our mailing list and stay up-to-date on vegan and vegetarian menus and highlights.
Ask a dining manager for assistance if you are unable to locate vegan or vegetarian menu items. We are here to help!
Connect with the NC State Vegan/Vegetarian Club
Vegan and Vegetarian Options at the Dining Halls
We offer daily vegan and vegetarian options at the dining halls, including plant-based entrees, customizable stations, and vegan desserts. Here are some suggestions if there is no menu item to your liking:
Load up a salad or sandwich with hummus and/or quinoa and veggies for a healthy and satisfying meal.
Try our freshly-ground peanut butter with a banana or apple for a healthy snack.
We also offer a vegetarian burger or veggie nuggets at every meal.
We are always looking for feedback for our vegan and vegetarian menu items. Send us your thoughts and suggestions at wellfedwolfpack@ncsu.edu.
Allergy and Nutrition Disclaimer
Disclaimer: NC State Dining makes effort to identify ingredients that may cause allergic reactions for those individuals with food allergies. Items marked gluten friendly are made with no gluten-containing ingredients. Effort is made to thoroughly train our food production staff on the severity of food allergies. Because of the number of meals served and the number of items used each day, along with food product changes from our food vendors, it cannot be guaranteed that every allergen in the food served will be identified and labeled. The possibility that manufacturers of the commercial foods we use could change the formulation at any time, without notice also exists. Customers concerned with food allergies must be aware of this risk. NC State Dining cannot assume any liability for adverse reactions to food consumed, or items one may come in contact with while eating at any NC State Dining facility or catered event. Students/Campers with life-threatening food allergies who may need to use an EpiPen should be carrying their own. NC State Dining staff is NOT trained to administer EpiPens and CANNOT provide or administer them.
Meal Plan Exemptions
NC State Dining makes every effort to support students with special dietary needs. If your circumstances require you seek an exemption to a Meal Plan requirement, please visit our Meal Plan Accommodations page for details.