Celebrate at State

Two of NC State's fine-dining restaurants are now taking reservations for graduation weekend. Let the celebrations continue and enjoy a delicious meal with your family and friends right here on campus.
Options include:
1887 Bistro
In Talley Student Union
May 10  | 11:00a.m.- 2:00p.m. and 5:30 p.m. – 8:00 p.m.
Reservations | 919.513.6046
At Lonnie Poole Golf Course
May 11 and 12 | 11a.m.- 2p.m.
Reservations | 919.515.4343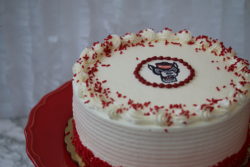 No celebration is complete without a custom cake from NC State's very own Yates Mill Bakery. Visit go.ncsu.edu/yates-cakes to view our selection of cakes and pre-order by May 2, 2019. Cakes will be available for pick up at Yates Mill Bakery in Talley Student Union from May 10 – 11.