A quick guide on how to make healthy and easy Zoom snacks 
Learn how to make nutritional packed snacks that will increase your productivity and help you stay focused during your virtual classes. 
By Thania Menjivar | Senior at North Carolina State University
Do you find yourself rushing to the kitchen, reaching into your snack counter, and picking up whatever is the easiest? If so, this guide is for you. Now that I am taking all of my classes online I find myself running in and out of the kitchen to grab a quick bite before class starts. I was tired of snacking on the same things over and over again, so I decided it was time to get creative with my daily snacks. I am here to share with you four easy and delicious snacks that can be prepared ten minutes before your class starts. Say bye-bye to your old snacks and welcome these four healthy and effortless snacks!
1) Sweet – Rice cakes topped with peanut butter and banana slices
Peanut butter and banana combo? Trust me, you do not want to miss out!!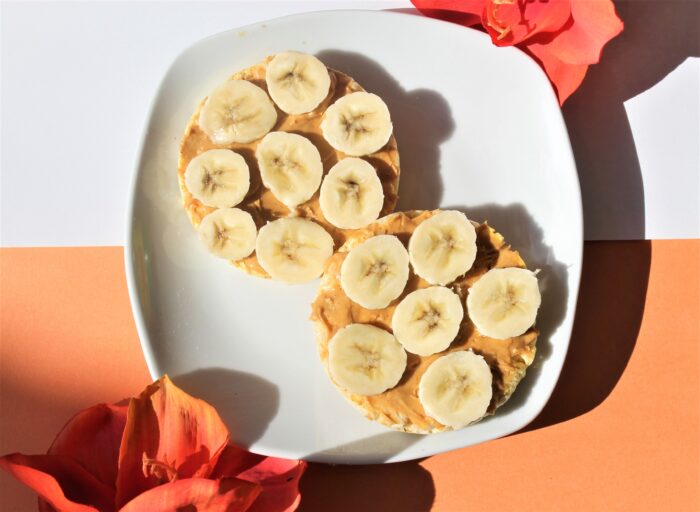 Ingredient List: 2 rice cakes (I use Quakers), 2 tablespoons of your favorite 
How to: Spread your favorite peanut butter on the rice cakes and top them with sliced bananas. peanut butter (feel free to substitute to any nut or seed butter), and a whole banana 
Did you know that peanut butter is a great energy booster? Peanut butter is a source of healthy fats and plant-based protein that digests slowly and helps you feel energized throughout the day. Bananas are also a rich source of fiber and potassium & a great quick snack to eat after a work-out that helps replenish electrolytes. 
2) Savory–  Mini hummus platter with veggies, and cheese cubes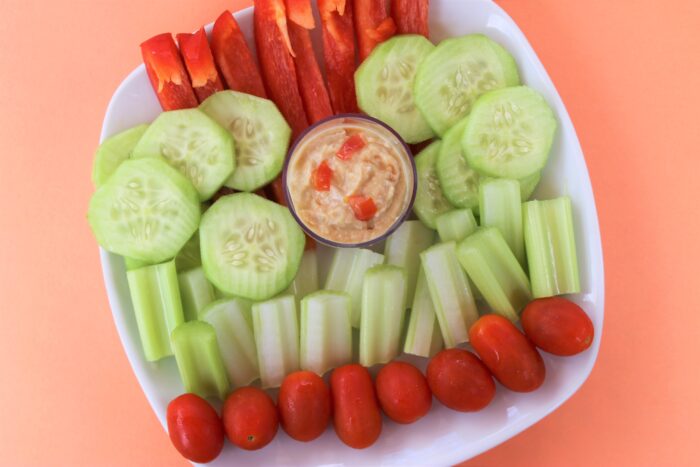 Ingredients List: Cut up veggies (red pepper, cucumbers, celery and tomatoes, or whatever you prefer!), 2 tablespoons of your choice of hummus and a serving of cheese cubes 
How to: Wash and assemble your veggies on a plate, add two tablespoons of your choice of hummus and add a serving of cheese cubes. 
Tip: Remember that you can add as many vegetables to your platter as you want. The more colors your platter has, the more nutrients you will be eating! Cutting up your veggies after you buy them allows you to easily grab and eat fresh vegetables in a timely manner. Also, feel free to use any type of cheese- Daiya and Kite Hill offer vegan and non-dairy options and Organic Valley has a wide range of dairy cheeses.  If you do not have pre-cut cheese cubes (no worries), simply dice or slice from a block. One standard serving size is about 1 to 1 ½ oz or the size of a 2-4 dice.
3) Sweet- Yogurt berries parfait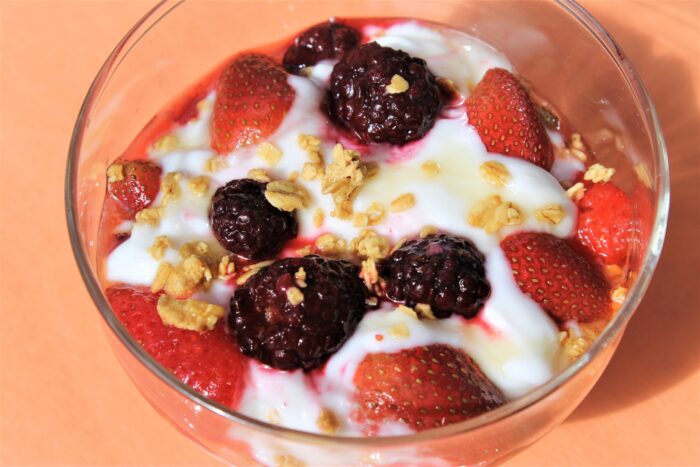 Ingredients List: A handful of berries, low-sugar yogurt, granola and raw honey 
How to: Add some berries to the bottom of your bowl, top it with a 1 cup of greek yogurt (I love Icelandic yogurt products), add the rest of your berries, granola, and drizzle one tablespoon of raw honey to the top of your bowl & voilà! 
Did you know that Raw honey is honey that has not been filtered or processed! It is simply gathered by extracting it from the beehives. Raw honey is a rich source of antioxidants, and is known to be an anti-inflammatory and can be found at any local grocery store. Whenever I don't find fresh strawberries in the produce section I head over to the frozen section and pick up a frozen berry bag there! Frozen berries tend to be cheaper, especially during the winter months. If you decide to buy frozen berries, look for brands without sugar added. Frozen produce is frozen shortly after it's picked, meaning that it is still packed with nutrients and a great swap for processed snacks and high-calorie desserts. 
4) Savory– Guacamole with baked pita chips or pretzels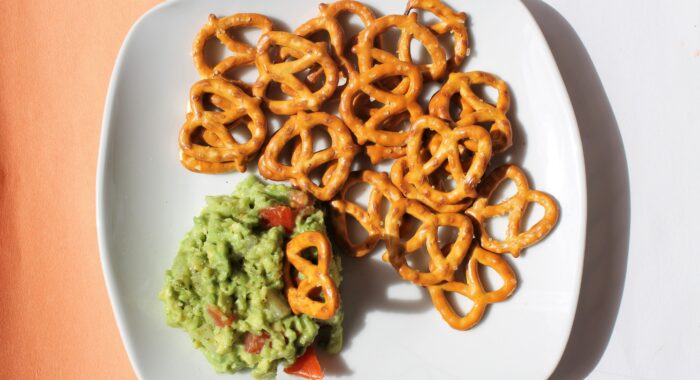 Ingredients List: A medium-size avocado, salt and pepper, half of a tomato, half of an onion, and one serving of pita chips or pretzels
How to: Begin by cutting the tomato and the onion into diced sized pieces and set them aside. Grab your avocado, slice it in half, take out the seed and begin cutting the avocado into fourths. Once you finish cutting the ingredients add the avocado, tomato, and onion together and mix it all until a chunky texture is achieved. Feel free to add salt and pepper to taste. Serve your delicious guacamole with a serving of baked pita chips or pretzels. 
Tip: Tired of having to throw away avocados after you left them open in the fridge? I have a simple solution for you! After you use the desired amount of avocado, grab the remaining avocado and place it in a tightly sealed plastic container. This easy trick will keep all air out and avoid any brown spots to form. 
For more tips on how to keep your avocado from going brown check out Test Kitchen Tips. Avoid having to throw away your avocado by simply using these tips. 
These delicious Zoom snacks are ideal for any college student that needs a quick snack whenever they are in a rush, want to eat something substantial, or whenever they are tired of eating the same snacks every day (like me). Now that you have this quick guide accessible to you at any given time, make sure to give any of these recipes a try. Remember that you won't know if you like it or not until you try it! Once you try one of the recipes feel free to post it on your Instagram story and tag us @ncstatedining and we will feature your post on our story. If you have a special go-to delicious recipe I would love to hear all about it. Share it on your social media, and don't forget to tag us!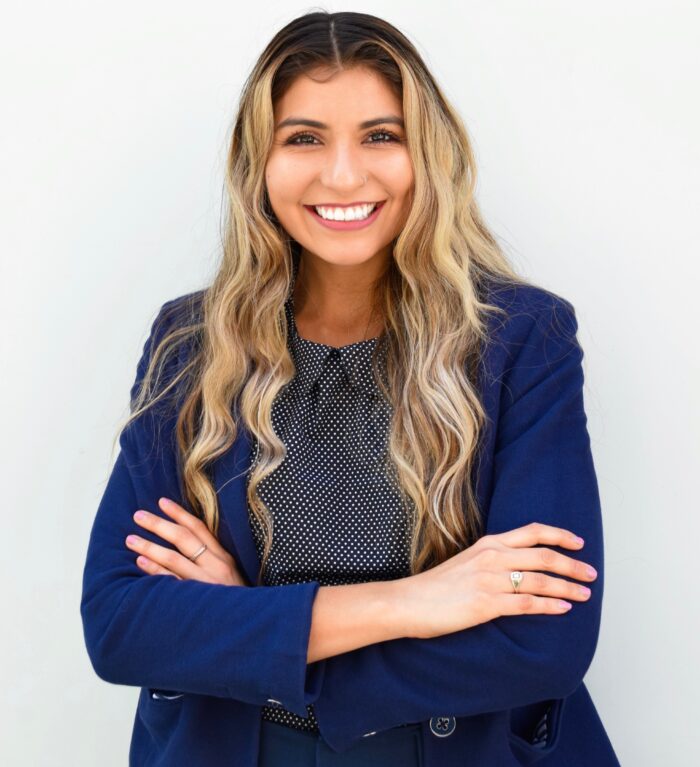 Thania Menjivar is a Communication and Sociology major at NC State. She joined NC State Dining in Fall 2020 as a Marketing Intern that adores leading and creating promotional campaigns for our NCSU community. Some of her favorite pastimes include lifting, cooking and visiting local coffee shops. When she is not busy working or at school, you can expect her on the dance floor teaching Zumba or in a quiet space practicing Yoga.