Health + Wellness
Our award-winning and nationally recognized dietitian and nutrition team are here to make sure you have a fresh and healthy experience when you eat with the Pack. Throughout our operations, we place a special emphasis on fresh foods and wellness to help you pursue a healthier lifestyle that can be embraced long after your time at NC State. This includes educating students, offering healthy food choices, providing effective and informative food labeling, and encouraging wellness activities. Check out the Nutrition Guide for an overview of our Nutrition and Wellness program here at NC State.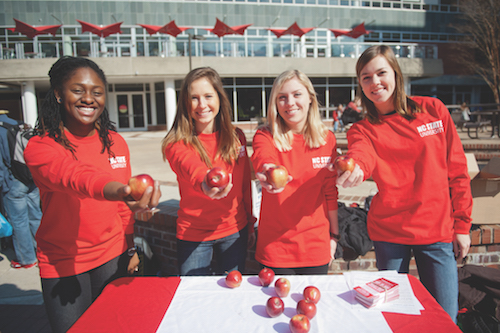 If fresh and healthy food is what you crave, you'll find it at every turn. Our award-winning nutrition team is here to help you make healthy eating even easier with our Dietitian's Dish and Wolf Approved programs. Receive nutrition updates, health and wellness tips, recipes, prizes and more by following @WellFedWolfpack on Instagram and Twitter or checkout our Well-Fed Wolfpack Tips page.
WELL-FED WOLFPACK TIPS + RECIPES
How to Get a Better-than-Sun Glow with Food Pigments
Safe Eats: Food Allergy Club Represents NC State at
FARE's Triangle Heroes Walk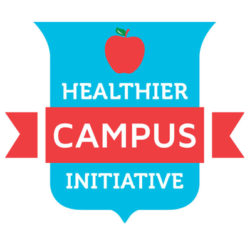 The Healthier Campus Initiative began in 2014 as part of First Lady Michelle Obama's Partnership for a Healthier America (PHA) program. PHA is a nonpartisan, nonprofit organization that is led by some of the nation's most respected health and childhood obesity experts. The Partnership focuses on working with the private sector to ensure the health of our nation's youth by solving the childhood obesity crisis.
NC State was one of the inaugural 20 colleges and universities to initially sign on to a three-year commitment to adopt the PHA guidelines focused around nutrition, physical activity and programming. In 2015, implementing all 23 guidelines two years ahead of schedule, NC State was the first campus in the nation to successfully complete the Healthier Campus Initiative, encouraging healthier options among the more than 40,000 students, faculty and staff on campus each year.
Special Dietary Needs
The goal of our nutrition and wellness program is to enable, educate and encourage students, faculty and staff to adopt and lead healthier lifestyles. We recognize there are a number of students, faculty and staff on campus who have special dietary needs, such as allergies, intolerances and dietary preferences. Our team is dedicated to meeting your nutritional needs by providing nutrition resources, education, and awareness across campus.
NC State Dining is recognized nationally for our work to ensure students with food allergies and intolerances can confidently dine on campus. We mark the eight major food allergens (gluten, dairy, eggs, fish, shellfish, tree nuts, peanuts and soy) in all of our dining locations.

For guests who need to avoid gluten or dairy, we have a special worry-free station at the dining hall. It has a separate fridge stocked with dairy-free food and gluten-friendly items, plus a separate toaster to prevent cross contamination. Gluten-friendly foods are those made without gluten products.
If you have a food allergy or intolerance, be sure to:
Review the resources we provide you and do your best to avoid your food allergen. Always feel welcome to contact our registered dietitian, Lisa Eberhart, with any questions or concerns.
When in doubt, avoid any ingredient or dish if you are unsure it is safe or ask the manager on duty for more information.
Read the food labels that are available to you. Our menu boards, nutrition kiosk and online menus display the entire ingredient list for every menu item that is served.
Be able to recognize symptoms of your allergic reaction and know the proper use of medications your reaction. If you have an EpiPen, carry it with you at all times and be prepared to use it. Our staff is not trained to administer an EpiPen.
Review our Food Allergy Guide and Allergy Disclaimer below.
We offer a wide array of tasty vegetarian and vegan options at every meal in the dining halls and at many of the campus restaurants. Look for the icons next to menu listings online and in our locations.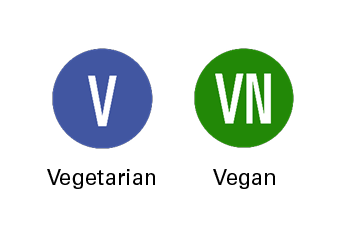 Contact our registered dietitian, Lisa Eberhart, to ensure you are meeting your nutritional needs.
Join our eMinder to stay up-to-date on vegan and vegetarian menus and highlights.
Ask a dining manager for assistance if you are unable to locate vegan or vegetarian menu items. We are here to help!
Vegan and Vegetarian Options at the Dining Halls
We offer daily vegetarian options at the dining halls. Here are some suggestions if there is no menu item to your liking:
Load up a salad or sandwich with hummus and veggies for a healthy and satisfying meal.
Try our freshly-ground peanut butter with a banana or apple for a healthy sandwich.
Check out our whole-wheat grilled cheese offered every day.
We also offer a vegetarian burger or veggie nugget.
If you are vegan, we have options for you, too. Look for menu items labeled with the vegan icon on our menu boards, nutrition kiosk or online menu. We offer vegan items ranging from mushroom stroganoff and soup to a five bean bake.
Disclaimer: NC State Dining makes effort to identify ingredients that may cause allergic reactions for those individuals with food allergies. Items marked gluten friendly are made with no gluten-containing ingredients. Effort is made to instruct our food production staff on the severity of food allergies. Because of the number of meals served and the number of items used each day, along with food product changes from our food vendors, it cannot be guaranteed that every allergen in the food served will be identified and labeled. The possibility that manufacturers of the commercial foods we use could change the formulation at any time, without notice also exists. Customers concerned with food allergies must be aware of this risk. NC State Dining cannot assume any liability for adverse reactions to food consumed, or items one may come in contact with while eating at any NC State Dining facility or catered event. Students/Campers with life threatening food allergies who may need to use an EpiPen should be carrying their own. NC State Dining staff is NOT trained to administer EpiPens and CANNOT provide or administer them.
Eat the Wolf Approved Way
Eating on campus is easier than ever. Marking selected items "Wolf Approved" is our way of helping you navigate and identify healthier items on campus. Look for the Wolf Approved paw print icon across campus on menu boards, vending machines, and in our C-Stores across campus to help you identify healthy items and snacks.
Entrees and snacks must meet the following criteria to be considered Wolf Approved:
| ENTREES | SIDES | VENDING & C-STORE SNACKS |
| --- | --- | --- |
| Less than 600 calories per serving | Less than 250 calories per serving | Less than 250 calories per serving |
| Less than 5 grams of saturated fat | Less than 2 grams of saturated fat | Less than 3 grams of saturated fat |
| No trans fat | No trans fat | No trans fat |
| Is not fried | Is not fried | Less than 15 grams of sugar |
Wolf Approved Tips:
Entrees: Look for 100 percent whole-grain options that have less than 6 grams of sugar and at least 4 grams of fiber.
Sides: Servings of fruit, vegetables, calcium or whole grains are also considered Wolf Approved. It is important to include foods that are rich in calcium into your daily diet, such as skim or 1% milk, low-fat yogurt and low-fat cheese.
Vending & C-Store Snacks: Snacks must have at least one nutritionally redeeming quality. No candy and beverages are included. Fresh, frozen or canned fruits and vegetables make great snacks.
We're Dishin' Out Healthy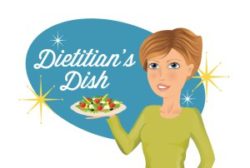 Many of us want to make healthy food choices, but are easily derailed by selections that look appetizing, yet are not nutritionally balanced to eat on a regular basis. Therefore, it can become overwhelming trying to figure out what we should and shouldn't be eating. The Dietitian's Dish offers a solution to those who want to eat healthy without sacrificing taste.
When you visit our on-campus Dining Halls on Mondays, look for the Dietitian's Dish table and learn how to make a healthy and delicious meal selected by our nationally recognized dietitian, Lisa Eberhart.
April 2018 Dietitians Dish Calendar
How it works:
Visit the dining halls on Mondays and look for our Nutrition staff wearing Dietitian's Dish T-Shirts. They can explain the daily Dietitian's Dish and why it's good for you.
Grab a plate and follow the numbered Dietitian's Dish identifiers in the serving area to create your own nutritious meal.
Check out the monthly Dietitian's Dish calendar to preview the dining hall selection and location for a certain day.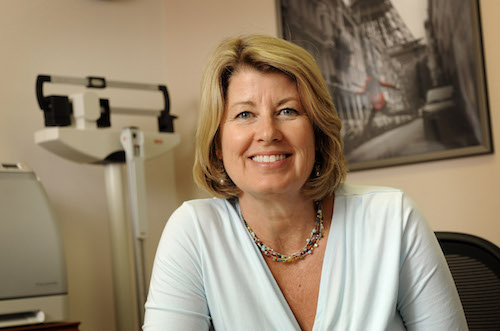 The hectic, unpredictable nature of college life can wreak havoc on your diet, especially when you have a food allergy or medical condition. Our registered dietitian and Director of Nutrition and Wellness, Lisa Eberhart, is available to help you meet your nutritional goals. Lisa can help you with a variety of dietary issues, including:
General nutrition information at the dining halls, restaurants and cafes across campus.
Identifying menu and ingredient information at our on-campus dining locations.
Assist with meeting special dietary needs, including allergies, intolerances and dietary preferences.
In addition, Student Health Services offers students free dietary consults with a registered dietitian to address dietary concerns or diagnosed conditions. Appointments can be scheduled online at healthypack.dasa.ncsu.edu/appointments or by calling 919.515.2563.