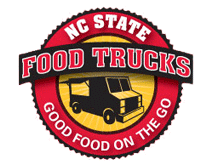 NC State Dining has partnered with independent, Raleigh-area food truck vendors to bring a variety of lunchtime options to underserved areas of the campus. The food trucks provide service between 11:30 a.m. and 1:30 p.m. each day (individual schedules may vary) in front of Venture II-A and II-B on Centennial Campus. Vendors and schedule are subject to change.
Food Truck Schedule
Gmail users can follow these steps to add the food truck schedule to their personal Google Calendar.
Click the Food Truck Calendar Link
Select the +Google Calendar button in the bottom right corner.
Enjoy! The Food Truck Schedule is available on your personal Google Calendar.
Please note: Unfortunately, our friends at Only Burger will be retiring from their beloved food truck rotation after October 2nd. They have been serving the NC State Centennial Campus for the past 8 plus years. They thank all of their dedicated followers from the bottom of their hearts. It has been a pleasure for them to see everyone's smiling faces. They thank everyone for their support and could not have done it without you. They have two stores in Durham, so be sure to stop by and get your Only Burger fix if you are ever in the area.
[Calendar] match homepage calendar look
Menus