NC State Dining Hosts "Dip into March Madness" to Promote Healthy Game Day Dips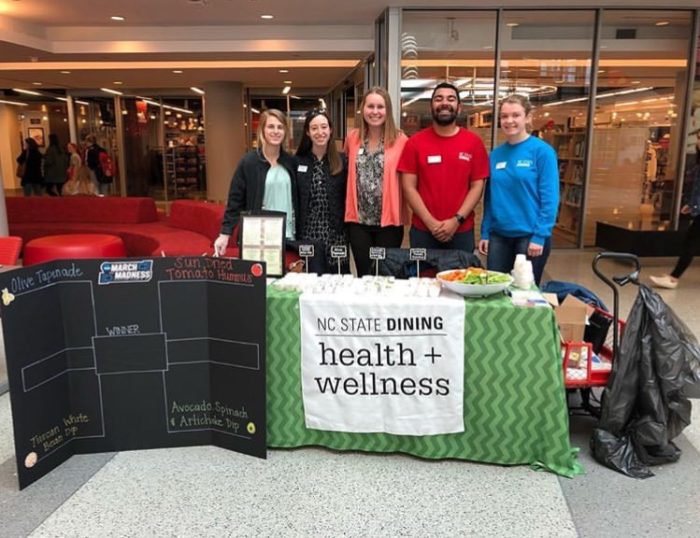 By Olivia Chadwick
With March Madness approaching fast, Emilio Balbuena, an undergraduate Dining Diplomat leader, needed a creative idea for his April cooking demonstration module. As a member of the Dining Diplomat program, he receives class credit by working with NC State Dining to gain experience in a variety of food service environments, ranging from behind-the-scenes nutritional accounting to industrial kitchen projects and cooking demos. As an avid sports fan, Emilio decided to take an athletic approach to his cooking demo and came up with "Dip into March Madness".
The premise was simple: choose four healthier dips or hummus recipes, plug them into a March Madness style bracket, and have the dips compete against each other for the "championship" by having students vote. Contending recipes included olive tapenade, sun dried tomato hummus, avocado, spinach, & artichoke dip, and Tuscan white bean dip. Each recipe had a distinct aroma, color, and flavor, which made it easy to differentiate between the dips. Over 100 students engaged with the table between 11:00 a.m. – 2:00 p.m. on April 3rd in Talley Student Union, choosing the variety of colorful game-day dips to sample and voting on their favorite recipes. By the end of the event, the winner was clear: avocado, spinach, and artichoke dip had 30 votes, with the sun dried tomato hummus close behind with 27 votes.
Recipes were well received and students were delighted to taste flavorful, healthier dips with an enticing and clever basketball theme. With the Final Four only a few short days away, the timing couldn't have been more perfect to host a March Madness themed dip competition.