NC State Dining Promotes Sustainability and Plant Forward Diets at Annual Earth Fair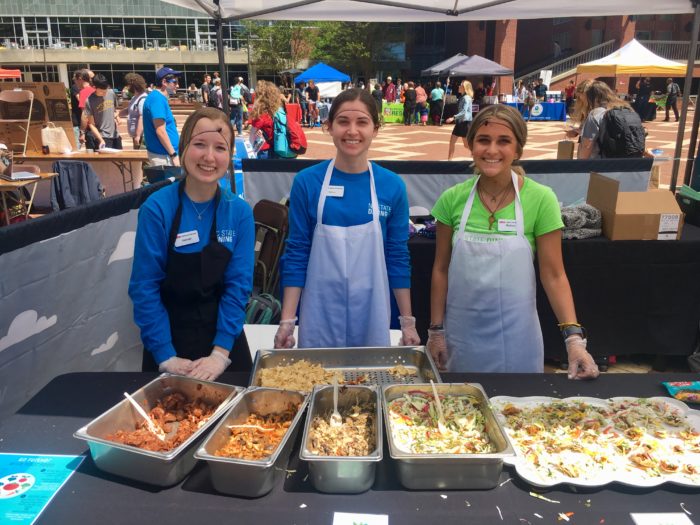 By Olivia Chadwick
On the sunny morning of April 22nd, 2019, dozens of local vendors began setting up their booths in NC State's "Brickyard", preparing for an Earth-loving celebration. Every year in April, the NC State Sustainability Office hosts Earth Fair, an outdoor, "Earth focused" event that features sustainable ideas, hands-on demonstrations, and captivating exhibits for attendees to observe, learn, and participate in. Interactive and educational vendors were seen sprinkled throughout the Brickyard, as well as campus partners and local businesses promoting resources and products.
NC State Dining invited interested passersby to sample freshly made jackfruit tostadas topped with jalapeno slaw and edible flower chocolate bark. Both recipes were made with vegan ingredients, prompting students to react positively and urge their peers to taste the colorful samples. Mushrooms were provided as an additional option for the tostadas. Many attendees of Earth Fair did not realize that dozens of flowers are edible and many excitedly took photographs of the edible flower poster displayed next to the tent. In lieu of recipe cards, students had the opportunity to take pictures of the recipe cards to try later and avoid unnecessary waste.
Undergraduate Dining Diplomats staffed the table and engaged attendees, students, and staff by providing facts on jackfruit, explaining the two vegan dishes, and passing out the flavorful samples. The four-hour event successfully showcased Dining's commitment to accommodate all members of the Wolfpack community, including students with dietary restrictions or certain lifestyle choices, like a vegan or vegetarian diet. As more and more incoming students adopt a plant-based diet, colleges and universities will need to increase vegan and vegetarian options in dining halls, retail, and grab & go locations. In recent semesters, NC State Dining has been consistently praised for expanding plant-based options across campus. Who knew that adding edible flowers into chocolate bark and substituting jackfruit for meat in a classic tostada would be such a hit?