NC State's Food Allergy Club, Safe Eats, Hosts Allergen Free End of Year Bash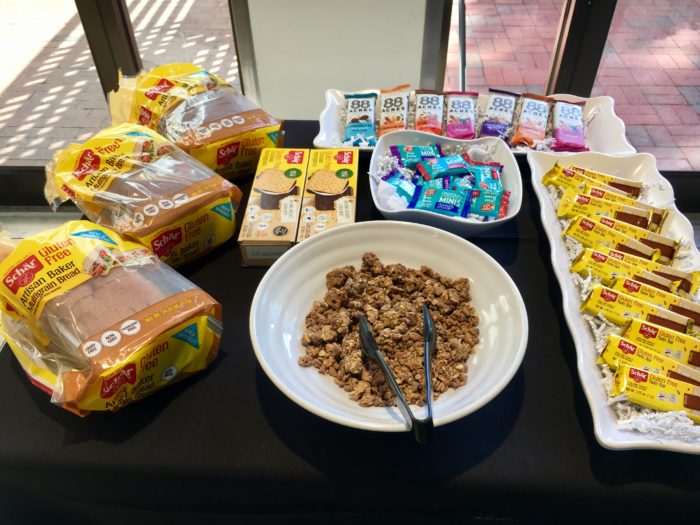 By Olivia Chadwick
As the semester begins to wind down, students are finding themselves increasingly stressed due to upcoming finals, unfinished projects, and forgotten assignments. NC State Dining recognizes the need for fun, inviting events towards the end of each semester, to help boost morale and provide a relaxing, stress-free break in the overtaxing world of college life. Safe Eats, the food allergy club at NC State, hosted an end of year party on April 22nd aimed towards providing students with dietary restrictions with a fun, safe, and delicious evening.
Safe Eats began over five years ago with the promise of providing support, safe food, and allergy-friendly information and presentations to students with food allergies, intolerances, or sensitivities. Today, Safe Eats works with the student body of NC State to promote allergen friendly food, host tasting events, and connect Dining staff, chefs, and dietitians with members. Networking opportunities are also available, where students share helpful tips and tricks on how they navigate the dining facilities.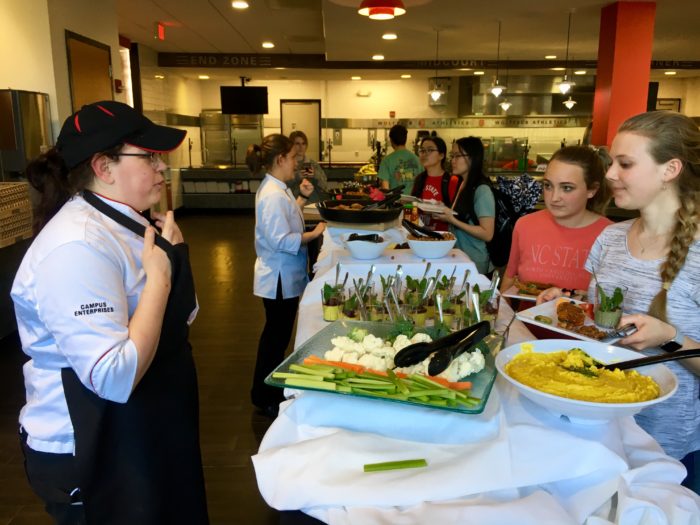 The allergen free end of year bash was led by Allie McCabe, a talented sous chef at Case Dining Hall. After getting an idea of the meal by collaborating with the NC State nutrition team, Allie went straight to work. She was given nearly full reign when designing the menu, as long as food served did not contain any of the top 8 allergens. After testing a variety of recipes and making necessary adjustments, her menu was complete: gluten free fried chicken sandwiches (Nashville hot and regular), sweet and savory hummus dips, fruit and veggie platters, sweet and savory roasted chickpeas, and two flavors of chia seed pudding. Over 30 students tried the delicious spread, and were grateful to see the university making accommodations to support their dietary restrictions. Students raved about the food, with special emphasis put on the flavor
and texture of the gluten free fried chicken. Allergen friendly samples were also handed out at the event, including 88 acres seed bars/butters, Enjoy Life chocolates, and Schar gluten free breads and sweet treats.
Overall, Safe Eats members were thrilled to see the chefs and Dining team working to deliver safe items at this exclusive event. Each semester, Dining works to deliver a food-focused event catered to students with dietary restrictions or lifestyle choices, including food allergies, diabetes, vegan and vegetarian, and Halal students.
Accommodations are consistently being made at the university to ensure all students during their time at NC State feel safe and comfortable at the 35+ dining locations on campus. In the future, NC State Dining hopes to serve more naturally allergen friendly and plant forward items for all students in the dining halls and retail locations.