Celebrate 40 Years of Fountain Dining Hall with an 80's theme dinner on February 28
Fountain Dining Hall opened its doors to the NC State community in 1983, and this year it will commemorate 40 years of feeding the Wolfpack. To celebrate, NC State Dining is hosting Fountain's 40th Birthday Party: a 1980s-themed birthday event complete with all the nostalgic vibes for the early years of Fountain.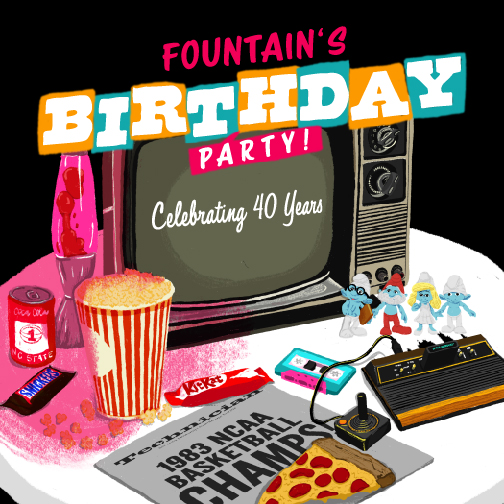 To transport students back from the future, one side of the dining room will be converted into a retro-themed arcade with video games to play and a photo booth for students to take pictures. The dining room will also host a DJ, play 80s movies across all the televisions, and be decorated with pictures of Fountain throughout the years. Students will be able to experience a blast from the past and celebrate just how much Fountain has done for the NC State campus community in four decades.  
The menu will reflect popular foods of the 80s, including
a homestyle line designed to reflect the contents of a TV dinner tray

a pizza station with iconic square slices

party-favorite Hors d'oeuvres like Pigs in a Blanket and Jalapeño Poppers.
There will be an ice sculpture with a shrimp cocktail ring and a carving station for prime rib; for dessert, the dining hall will be serving birthday cupcakes and a candy table. At the candy table, there will also be a commemorative cup for attendees to take home.  
Fountain's 40th Birthday Party will take place on February 28 from 4:30 p.m. to 8 p.m. at Fountain Dining Hall.