Celebrity Chef Dustin Harder (@TheVeganRoadie) to visit NC State
NC State Dining is pleased to announce that Universal Meals and Chef Dustin Harder of @TheVeganRoadie will be on campus for two days of allergen-friendly and plant-based fun!
MONDAY, OCT 3
Join Chef Dustin Harder, health educator Zoe Novic, and NC State Dining dietitian Lauren Smith from 4-5 p.m. in the Carmichael Gym Teaching Kitchen (Room 1158) for a fun-filled event. There will be a presentation, culinary demo and samples. Space is limited, and registration is required. Click here to register.
TUESDAY, OCT 4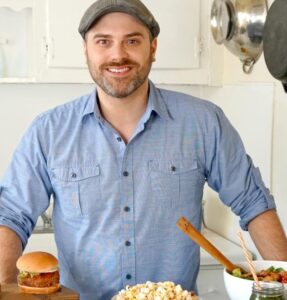 Stop by Fountain Dining Hall from 11 a.m. – 1:30 p.m. to try some delicious Universal Meals recipes and meet Chef Dustin Harder. The special menu will be served at the Simply Made station for lunch. All items will be vegan and free of the top 9 allergens. The menu will feature:
Cauliflower and Chickpea Masala with Brown Rice
Garlicky Sweet Potato and Kale Mash
Smoky Brussels with Shiitake Bacon
The Physicians Committee for Responsible Medicine, a nonprofit organization with more than 17,000 doctor members recently launched Universal Meals, a new plant-based food program free of the top nine allergens. The program, including recipes and instruction, is being offered at no cost to colleges and universities, as well as hospitals, prisons, and schools. A fall tour featuring dining hall pop-ups with tablings, and chefs' specials will start on October 4th at North Carolina State University and continue through November (see full tour schedule below.)
Last month on Thursday, August 18 the tour details were announced by Chef Dustin Harder at the International Conference on Nutrition in Medicine in Washington, D.C. with a presentation on the topics of rationale (why Universal Meals is so important), the design of UM, how to turn guidelines into meals, and the application and future of UM. Joining him to further expand on the program was registered dietician Lillian Correa from NYC Health and Hospitals/Bellevue and Chef David Kamen from the Culinary Institute of America.
A new and innovative concept, Universal Meals recipes are free of the top nine allergens (milk, eggs, wheat, sesame, tree nuts, soy, fish, shellfish, and peanuts) and do not contain animal-derived ingredients; gluten-containing grains; or alcohol.
Commenting on the program and tour, "The timing is perfect to take Universal Meals out on the road to engage institutions in the benefits of offering recipes for their diners that create a seat for everyone at the table. It just so happens the recipes are affordable, accessible, and delicious too!" stated Chef Dustin Harder.
More people than ever have a specific diet due to health reasons, environmental or humane concerns, allergies, or cultural or religious traditions. The free Universal Meals program was created to meet these needs. Universal Meals was designed for both the kitchen and the consumer. The program is made for schools and colleges, hotels and businesses, airports, hospitals and long-term care facilities, restaurants, and others.
Universal Meals includes 
1.    Recipes developed by the Culinary Institute of America, Spork Foods, Inc., and Dustin Harder, designed to appeal to virtually everyone, regardless of their dietary requirements.
2.    Tips on how to adapt your kitchen's current offerings to become Universal Meals.
3.    Gorgeous recipe photos that are compatible for digital and print use.
4.    Free marketing materials to advertise Universal Meals to your clientele.
Tasting Highlights at International Conference on Nutrition in Medicine
Mac and Cheese with Presto Pesto and Shiitake Bacon, Cauliflower and Chickpea Masala, Spinach and Artichoke Flatbread, Rainbow Crunch Salad with Quinoa and Chickpea Croutons, Crispy Smashed Potatoes with Creamy Sunflower Dill Sauce, BBQ Jackfruit and Mushroom Tacos with Avocado Crema, Granola and Yogurt Parfaits, Chocolate Chunk Sea Salt Cookies, and Pineapple Basil Sorbet
·Other items will be peppered throughout the weekend including Veggie Quiche with Beetroot Ketchup, Mexican Sweet Potato Hash, Baked Oatmeal Blueberry Muffins, Nasi Goreng, Blueberry Crumble Muffins, Banana Bread, and Sweet and Sour Cauliflower
Universal Meals Tour Dates
10/ 4 – 6 / Raleigh, NC / NC State University
10/ 26 – 27 / Miami, FL / University of Miami
11/ 7 – 8 / Atlanta, GA / Georgia State College
11/ 10 / Atlanta, GA / Emory University Hospital
11/ 16 / Pullman, WA / Washington State University
11/ 29 / South Bend, IN / Notre Dame University
About PCRM
Founded in 1985, the Physicians Committee for Responsible Medicine is a nonprofit organization that promotes preventive medicine, conducts clinical research, and encourages higher standards for ethics and effectiveness in education and research.
About Chef Dustin Harder
Chef Dustin Harder, who has appeared on TV's Food Network and in his own web series, "The Vegan Roadie," helped develop Universal Meals recipes. He is the author of several cookbooks including, The Simply Vegan Cookbook, a Forbes "best cookbooks," and will be on hand to share information about the program and offer free tastings of a main dish and dessert. Chef Harder is a culinary specialist with the Physicians Committee.
To learn more visit: https://www.pcrm.org/universalmeals