What Faculty, Staff and Partners Can Expect on Centennial Campus this Fall
Plans to serve our campus community have been posted at dining.ncsu.edu/keeping-you-healthy. This includes our safety and sanitation practices, location modifications and payment methods.
NC State Dining is committed to keeping the health and wellness of our campus patrons and employees as our first priority. We are also committed to providing the most convenient, satisfying and nutritionally sound dining program possible while adhering to required and recommended guidance for foodservice sanitation, health, and safety.
When you dine with us, be sure to bring your mask and wash your hands before you come, if possible. (Don't worry… we'll have sanitizer stations everywhere!)
Focus on Mobile Ordering
You'll need Grubhub to order food at most campus locations this fall. Take a few moments to download the app and connect it to a major credit card or to NC State faculty/staff payroll deduction. (Purchases made through payroll deduction offer a 10 percent discount at restaurants and 5 percent at convenience stores.)
It's easy to set up and use. Follow these simple steps below and get ready to dine at your favorite on-campus locations.
1) Using your mobile device, download the app
2) Set-up your GrubHub account
3) From the settings menu, select Campus Dining and choose NC State
4) Add your Unity ID number to directly link NCSU Campus Card or the credit card of your choice.
5) Browse from the on-campus options to view menus and order.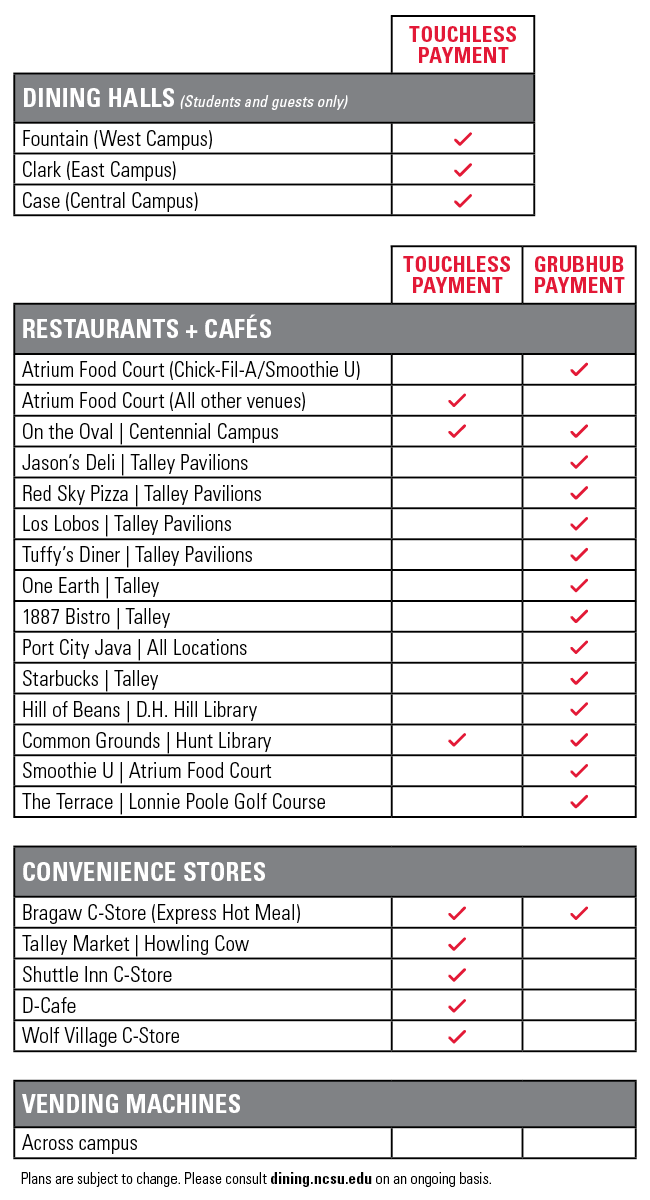 Location Information
The Oval will have a limited number of seats to provide for physical distancing. Order through the Grubhub app, then get in line to pick up you order. 
The Terrace at the Lonnie Poole Golf Course is open for takeout only, but patio seating is available. 
Port City Java at Textiles and EBII will only accept orders through Grubhub.
Common Grounds will allow diners to order through Grubhub and at the point of sale with contactless payment.
Shuttle Inn at Textiles has added Sushi with Gusto options in-store as well as expanded their grab + go selection. Diners will pay with contactless payment.
The State Club Restaurant is closed until further notice.
We look forward to serving you! If you have any questions, email us or call 919-515-3090.