Elements Cafe opens in Jordan Hall
NC State Dining opened its newest location – Elements Cafe – in Jordan Hall at the start of the Fall 2020 semester. The coffee house opened alongside the newly renovated Natural Resources Library and brought with it a flurry of activity that has since attracted students, faculty, and staff alike. The debut of Elements Café comes after more than a year of Jordan Hall's lobby being closed for construction and is a welcome addition to the space's fresh look and feel. 
Elements has a full menu of Caribou Coffee drinks, a wide variety of pastries, made-to-order breakfast sandwiches, and assorted grab-and-go meals and snacks for patrons to enjoy. The extensive drink and pastry menu will also feature seasonal items in the coming months. Grab-and-go items from Elements Café are comparable to those found in Talley Market and other C-Stores around campus, including deli sandwiches, fruit cups, vegetable packs, and more.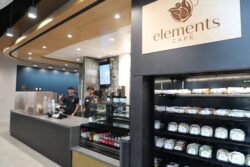 Located on the first floor of Jordan Hall, Elements Café is not only a benefit for students who have classes in Jordan Hall; it's also convenient for students coming to campus from Western Boulevard to grab a coffee or a snack before their classes, too. For many students, Elements Café is now the closest on-campus dining option, and they can utilize their meal plan for purchases with Dining Dollars or pay with credit or debit cards. Students and faculty can also order ahead to the café via Grubhub and have their coffee and breakfast ready for pickup in minutes to avoid the line. 
Hannah Gentry, a senior at NC State, shared how excited she was for the coffee house to open. "I'm so excited to have Elements in Jordan," she said. "I live off campus, and before I felt like if I was working in Jordan all day I would always have to make a trip to Talley for coffee or have to go all the way home. Now that it's right here it makes my life a whole lot easier."
Elements Café also makes a great study space for students with its accessible location off of Western and its shared space with the Natural Resources Library, which has a variety of different resources for students to utilize including study rooms, printers, and computers. Elements is open from 7:30 a.m. to 3 p.m., Monday through Friday, with reduced hours during breaks. For more information, visit dining.ncsu.edu/location/elements-cafe.