Get Well Meal Kits nourish students on the mend
Flu and cold season means more students feeling under the weather. And since many would rather isolate in their room, NC State Dining's Get Well Meal Kit keeps them full and hydrated during their recovery.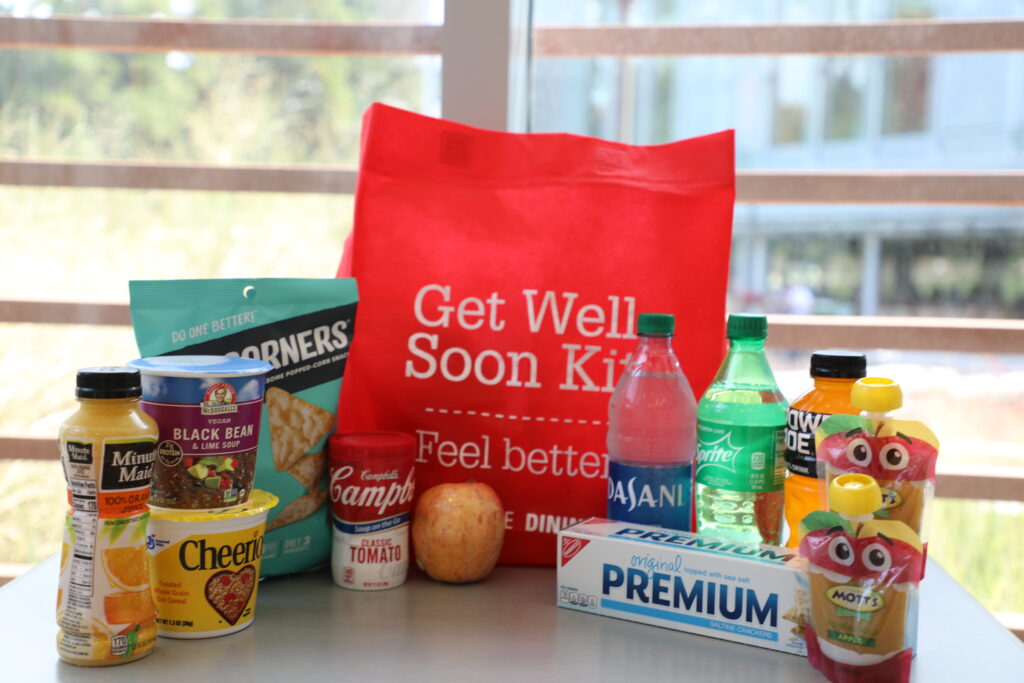 "When students aren't feeling well, they have a tendency to not eat or stay hydrated the way they should," said Lauren Smith, NC State Dining's director of nutrition and wellness. "This kit provides them with non-perishable items that are easy on the stomach and require minimal preparation."
The kit includes two single servings of Motts Applesauce, a sleeve of saltine crackers, a single serving of Cheerios, two servings of soup, one pack of cracker sandwiches, one Sprite or Ginger Ale (20 oz), one Powerade (20 oz.), one  juice (12 oz.), a piece of fruit, and spoons. The kit can be modified for students with food allergies and other cultural or religious dietary restrictions by contacting Smith at wellfedwolfpack@ncsu.edu.
Students order it online at dining.ncsu.edu/get-well-meal-kits, and if they are too sick to pick it up, they can ask a friend or their RA.
Parent Lisa LaCroix learned about the kit in one of the NC State parent Facebook groups. When her son Tyler caught a virus in September, she encouraged him to look into it.
"He's vegetarian and an extremely picky eater, but he's been trying a lot of new things since he arrived at NC State," she said. "I knew he would be happy with the crackers and Powerade, but he reported really liking the tomato soup. He was really impressed with it! It made me feel good that he had all the food he needed for the day and he enjoyed what was in it."
The kit is free to flex meal plan holders if they haven't used a dining hall meal swipe on the same day the kit is requested. If a meal swipe has been used, a $15 fee will apply. For those on a block or commuter plan, one meal or $15 dining dollars will be used. Non-meal plan holders may purchase the kit for $15, billed to their university account.
For more information, visit dining.ncsu.edu/get-well-meal-kits