James 'Jimmy' Helfert Retires after 44 Years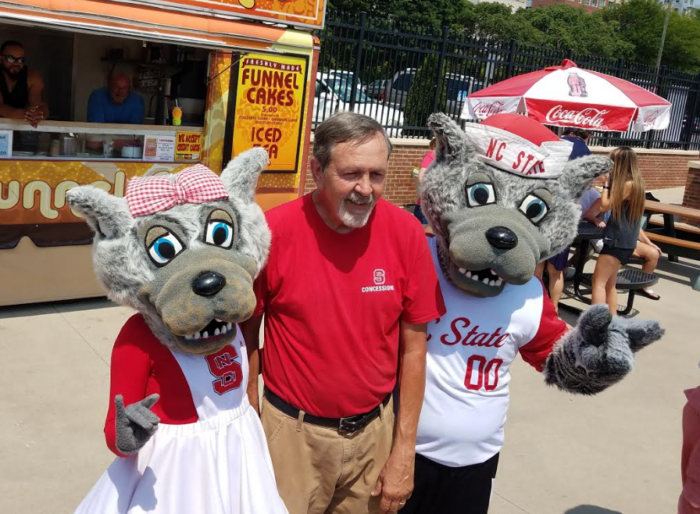 There's really no one around who can remember a time when Jimmy Helfert wasn't the guy who made sure there was plenty of snacks and drinks for the tens of thousands of fans who cheer on the Wolfpack at campus athletic events each year. He has worked in our athletic concessions operations over 44 years and has been the manager of concessions for the past 20 years.
"When you need information about NC State concessions, most people can go back a year, maybe two and print off a spreadsheet," said Scott Harmon, director with NC State Dining. "Jimmy can go back decades from memory…he takes and keeps great notes of historical data to help trend sales and purchases."
Concessions service is also unique to weather, time of day, day of week, where to find shade and how a particular opposing team will affect sales. "After all these years, Jimmy can pretty much tell you how these factors are going to impact any event. He's really going to be missed."
NC State's athletic seasons collide regularly, with football, basketball, baseball, softball, wrestling, volleyball and soccer all relying on Jimmy and his team to be there. Regardless of the relentless schedule, Jimmy has always been found stocking stands, making deliveries and running stands, darting from one event to another, then resetting for the next day's events.
From the beginning, working part-time as a young man at Carter-Finley Stadium, he has always had a smile on his face and bounce in his step. Forty-four years later, it is still there.
"Jimmy has a glowing reputation and will never let you down," added Harmon. "The relationships he has built with staff and athletic department are strong and long lasting, based on professionalism, respect and an incredible work ethic. Also, no matter how busy Jimmy is, he will always make time for you, he always has a great story to share and you can see that he still has fun. We are going to miss him."
Helfert Fun Facts
Started working at Carter-Finley as a hawker in 1970

Hired as assistant concessions manager on January 1,1974

Promoted to concessions manager August 14, 1998

Worked all 12 major concerts held at Carter-Finley, from Pink Floyd in 1988 to Beyonce in 2016

Retiring July 31, 2018 after 44 years of state service