NC State Dining Chefs Present and Win Big at National Culinary Conference
It all started with a single burger; a blended burger, that is. Last fall, NC State Dining Chef Stephen (Steve) Toaso entered his "Carolina-style barbecue blended burger;" — a blend of mushrooms and beef — into the James Beard Foundation's Blended Burger Project: Campus Edition. Though it faced fierce competition, NC State's blended burger earned one of six top spots and an invitation to the James Beard House in New York City.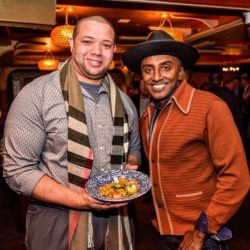 Chef Steve isn't the only NC State chef with an award-winning recipe under his chef's hat. Chef Gary Tessinari entered his "peppered-bacon sausage Scotch egg" recipe in the US Foods "Make It with Marcus" (Samuelsson) competition using on-trend products and won a trip to meet and cook with the celebrity chef, author and independent restaurateur.
UMASS CULINARY CONFERENCE
Having elevated their reputations, Chefs Toaso and Tessinari, were invited to present at the University of Massachusetts' (UMass) Annual Culinary Conference held June 3 – 8. UMass's annual "Tastes of the World" Chef Culinary Conference is highly regarded as the premiere gathering for food service professionals to learn more about the latest scientific research findings in nutrition, flavor trends, culinary education, and technology know-how.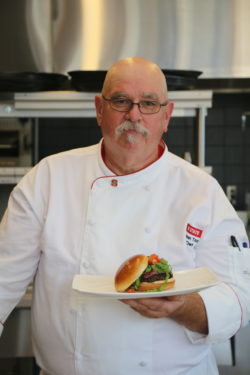 The lineup of conference events began on June 3, where Chef Steve prepared and presented his award-winning blended burger to over 100 conference attendees. On June 8, first-time competitors Chefs Steve and Gary entered the American Culinary Federation (ACF) cooking competition, where they had to create a menu with mystery basket ingredients, including a selection of proteins, meats, seafood and poultry, fruits, vegetables, and common pantry items. Along with their teammates, Chef Matthew Conley (Salisbury University, Maryland) and Chef Gen Guo (University of Illinois), they had two hours to prepare their menu of basket ingredients, plus 15 minutes to plate their dishes. Overall, the judges scored their team an 84.5 out of 100 points, awarding them an ACF silver medal. 
During their time at the conference, they also attended cooking demos and workshops, plus networked with well-known chefs, such as Jet Tila, Martin Yan, Virginia Willis, Jehangir Mehta, Hiroko Shimbo, and Jody Adams. "We were also exposed to cutting-edge sustainability methods we can bring back to NC State in an effort to better our dining program," said Chef Tessinari.  
"Chefs Toaso and Tessinari have had a very strong year representing NC State," said Shawn Hoch, director of dining services. "From the James Beard Blended Burger and US Foods Make It with Marcus competitions, to the UMass conference success, we are proud to have these chefs recognized at such a level for their culinary excellence."
ABOUT THE CHEFS
Chef Stephen Toaso brought his culinary expertise to NC State Dining four years ago and currently serves as a sous chef in Talley Student Union's main kitchen. Chef Steve enjoys getting creative with his culinary creations, including the popular Barbecue Blended Burger, which is currently a feature menu item at 1887 Bistro in Talley Student Union.
Chef Gary Tessinari, originally from Orlando, started his culinary career in mom-and-pop Italian kitchens and later went on to study at Le Cordon Bleu before relocating to North Carolina in 2011. Chef Gary joined the NC State Dining culinary team last September and also works in Talley's main kitchen plating his culinary excellence for the Wolfpack.
NC State Dining is a service of Campus Enterprises, the lead division for retail and hospitality on the NC State campus. For more information, contact Lindsay Hester at 919.513.0543 or via email at lphester@ncsu.edu