NC State Dining Hosts Annual Farm Feast to Promote Locally-Grown Food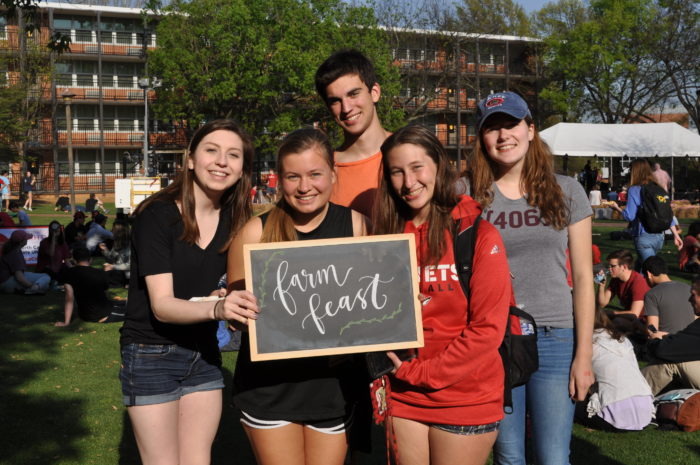 On April 12, 2018, NC State Dining hosted its annual Farm Feast, an outdoor dinner served at Fountain Dining Hall. The meal celebrated NC State's agricultural roots by featuring local foods from throughout North Carolina. Savory, mouthwatering dishes were served buffet style and dozens of hay bales were provided for attendees to relax while listening to local country band, Old Habits. Beautiful floral decorations, red checkered tablecloths, and cheerful employees greeted students as they received their locally grown dinner.
There were a variety of home-cooked, flavorful dishes served at Farm Feast, including strawberry kale salad, southern cornbread with local honey-poppy butter, braised beef brisket, habanero-cheddar mac and cheese, and NC State's very own Howling Cow ice cream. Serving local food from nearby farms not only provided a nutritious, tasty food at an affordable price, but also highlighted the benefits of eating locally-sourced produce. The menu offered gluten-free and vegetarian options as well, such as oat-crusted tofu, chili and lime white sweet potatoes, and cucumber asparagus salad to provide students with food allergies and dietary restrictions with a safe and satisfying meal. A fun cooking demonstration, hosted by NC State Dining's R&D Chef, Lesley Schatz, featured a variety of colorful salad dressings for attendees to add to their freshly-made salads as well as baby kale and rainbow carrots harvested two days prior from the NC State Agroecology Farm.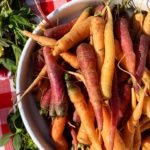 Built on farmland, the agricultural influence on main campus has always been present in the hearts of the students, teachers, and alumni. NC State also has the Agroecology Education Farm located just off Lake Wheeler Road, a few miles from main campus. The farm provides a variety of fruits, vegetables, and select flowers to Fountain Dining Hall and is always a key player in providing local food for Farm Feast.
Keep an eye out for details on next year's Farm Feast. You won't want to miss a memorable evening filled with music, delicious food, and a country vibe that can't be beat.