NC State Dining releases annual dining survey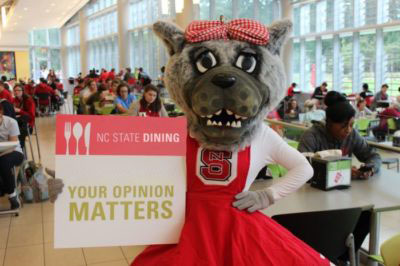 NC State Dining's priority is to provide an excellent experience to every guest. To gauge satisfaction and look for ways to improve, the department administers an annual dining survey to the NC State community, including students, faculty, staff and partners. The 2019 survey period will run now from October 20 – November 11.
This year, NC State Dining is offering a chance to win the weekly $100 prize or one of two $250 prizes just for completing and submitting the surveys. Frequent diners or those who have an opinion they would like to share are encouraged to complete surveys for as many locations as they desire.
"The survey gives our customers a chance to share opinions and overall satisfaction with our dining locations, food offerings, meal plans and other factors," said Shawn Hoch, interim senior director for hospitality services. "We use the feedback to identify what we're doing well and where we are falling short and appreciate the time our customers take to give us this valuable feedback."
The dining survey is divided into three different installments: Restaurants,  Cafes + C-Stores and Dining Halls, respectively. All surveys are currently open.
To take the dining survey, please click the links below:
NC State Dining is a service of Campus Enterprises, the lead division for retail and hospitality on campus. For more information on NC State Dining's annual survey, contact Stacey Watkins at smwatkin@ncsu.edu.