NC State Dining Wins Silver NACUFS Award for Catering Menus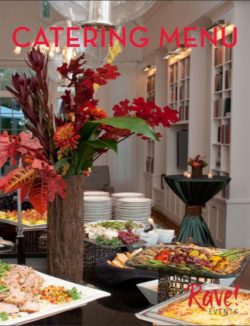 NC State University was announced as a silver recipient for the 2017 Loyal E. Horton Dining Awards, given by The National Association of College and University Food Services (NACUFS). Named for a NACUFS founder, past president and highly regarded innovator, the awards celebrate exemplary menus, presentations, special event planning, and new dining concepts. They also  provide an avenue for sharing ideas and creative presentations in campus dining services.
NC State Dining received a silver, second place award in the Large School division for a submission in the Catering – Online Menu category. Following a name change from University Catering to Rave! Events and a transition into operating in the newly renovated Talley Student Union, Rave! Events supports everything from student organization and departmental functions to high-profile receptions and galas. These online catering menus were designed to accommodate the clientele mix at each venue with sustainability, nutrition and affordability in mind.
More than 75 colleges and universities across North America submitted entries in six categories, including Residential Dining Concepts, Residential Dining—Special Event, Retail Sales—Single Concept, Retail Sales—Multiple Concepts/Marketplace, Catering—Special Event, and Catering—Online Menu. A team of six judges examined each entry carefully and selected top candidates in each category.
"The entries submitted by the various NACUFS institutions showcase some of the best trends and ideas in college and university dining service programs across the country," said Dawn Hearne, Hendrix College, Loyal E. Horton Dining Awards chair.
Each year's winning contest entries are displayed at the NACUFS national conference and award winners are publically recognized at a luncheon culminating with the announcement of the Grand Prize winners. Grand Prize winners also receive recognition with a feature article in NACUFS' magazine, Campus Dining Today.
Competing for one of these prestigious awards not only helps market the dining program as an award-winning program, it builds a sense of pride and team spirit within a dining staff. Sharing creativity and knowledge with other food-service professionals is a key component to NACUFS membership.
For a closer look at NC State Dining's award-winning catering menus, visit go.ncsu.edu/rave-menus.
NC State Dining is a service of Campus Enterprises, the lead division for retail and hospitality on the NC State University campus. For more information, contact Lindsay Hester at 919.513.0543 or via email at lphester@ncsu.edu.