NC State's One Earth Global Cuisine features three weeks of themed menus curated by Chef Erica Glasco
NC State's One Earth Global Cuisine will celebrate three weeks of themed menus, curated by Chef Erica Glasco. Starting Wednesday, February 15, Chef Glasco will showcase her unique culinary heritage and childhood experiences through three distinctive menus, highlighting Soul Food, Creole Cuisine, and a Tour of Africa.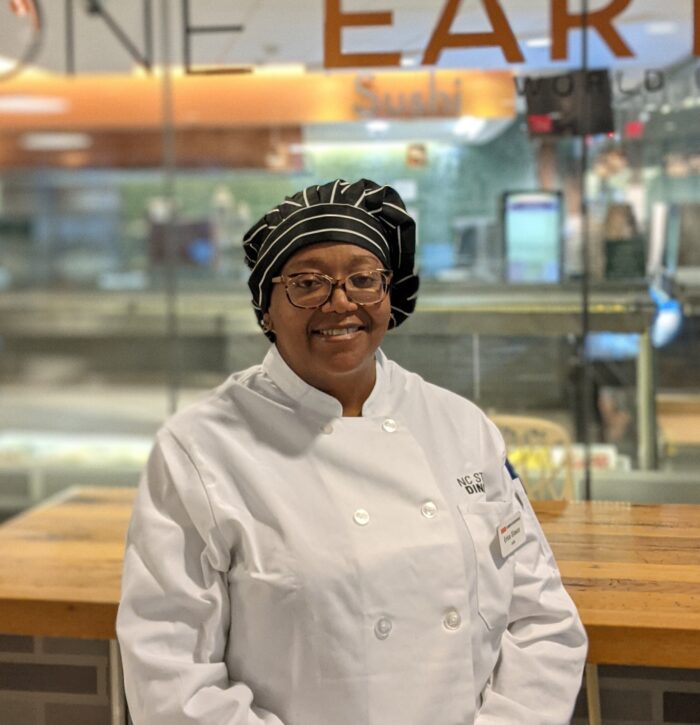 Chef Glasco has always been passionate about cooking and sharing her love for food with others. The three themed menus at One Earth are a reflection of her own heritage, and her childhood experiences growing up in the South, surrounded by the flavors and aromas of traditional soul food dishes.
Week one of the series will feature Soul Food, showcasing classic dishes such as Fried Catfish, Mac and Cheese, and Edna Lewis (Collard) Greens. Chef Glasco drew inspiration from her grandmother's recipes, which have been passed down through generations, to put her own twist on these traditional recipes.
Week two of the series will focus on Creole Cuisine, featuring dishes such as Shrimp Etouffee, Feijoada, and Vegan Creole Jambalaya. Chef Glasco has traveled extensively in the southern United States and has taken the time to learn from local chefs to perfect these classic dishes and bring the flavors of the region to the NC State campus.
Finally, in week three, Chef Glasco will take diners on a Tour of Africa, highlighting the diverse and rich cuisine of the continent. From the Braai Drumsticks of South Africa to the flavorful Maharage of East Africa, Chef Glasco has created a menu that showcases the best of African cuisine.
Chef Glasco is excited to share these special menus with the NC State community and is looking forward to bringing a taste of her heritage and childhood to the campus. These themed menus are a unique and exciting addition to the dining options at One Earth and are sure to be a hit with diners.