New Hoop House increases fresh produce on campus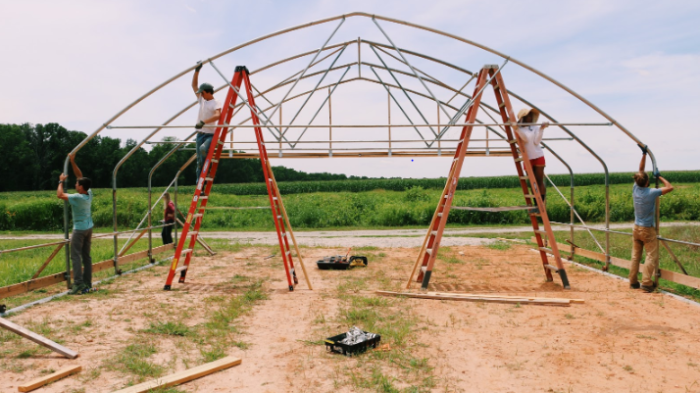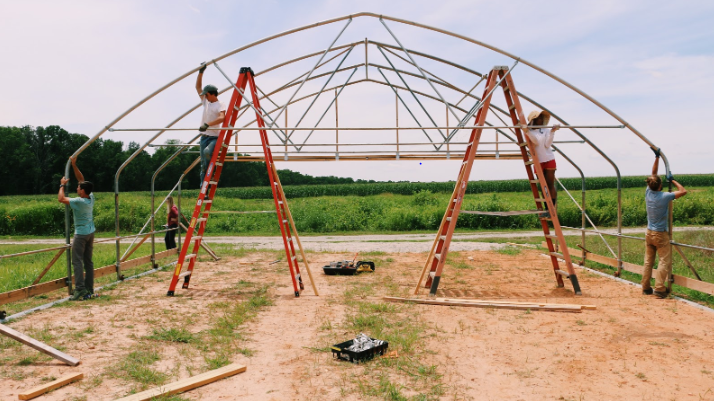 | By Lauren Greene
The Agroecology Education Farm (AEF) at NC State is in the process of building its second hoop house, which will allow for crops to be grown year-round. In addition, NC State Dining serves all of the produce from the farm at the majority of dining locations on campus.
Hoop houses are tunnel-like domes that are built over farmland. These tunnels create protection and a greenhouse effect, increasing the temperature of the area, prolonging the production season for the crops.
The first hoop house, a stationary structure, was built three years ago. The new hoop house is mobile, which will optimize the use of the greenhouse effect over the land it covers. The house can move over an untouched section of land while giving the used soil time to recover. Because the original house is immobile, the land must rest from crop growing in order to replenish itself with nutrients.
NC State Dining helped purchase both the old house along with the new house that is currently being built. The idea was to increase locally grown food on campus.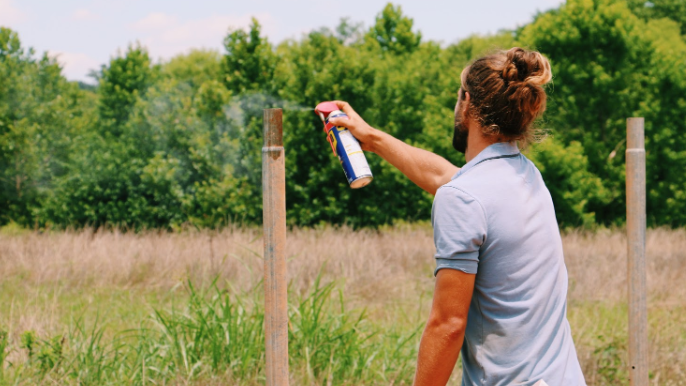 Alison Reeves, farm manager, explained the benefits of having a hoop house.
"The hoop house allows agriculture students to grow plants during the offseason without worrying if the weather might damage the plants," Reeves said.
Produce from the agroecology farm does not make up the majority of fresh food served at the dining locations; however, it is still significant that a student-run farm is able to provide locally grown produce for their student body.
Reeves mentioned that she is the only full-time employee. Students work on the farm as well as a temporary apprentice. Agroecology education farm needs more laborers and funds to grow the farm.
"We would like to increase the volume of production at the farm but would need more workers in order to," Reeves stated.
In the past year, agroecology farms have produced around eight thousand pounds of vegetation. In a couple of days, the second hoop house will be completed. The farm hopes to increase production for this coming school year to twelve thousand pounds.
In addition, Arthur Vallois, farm apprentice, has been assisting Reeves on the farm. Vallois is the project leader for the construction of the hoop house and has the help of four students for the summer: Will Voelker, Jesse Tysinger, Cole Lee, and Zoe Carmon-Rogers.