Randy Lait Wins IFMA Silver Plate Award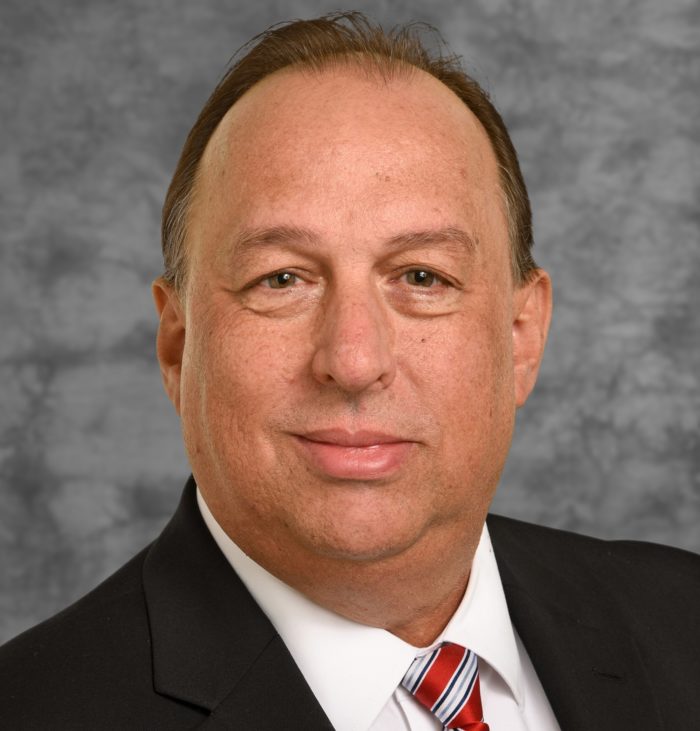 | By jhgilmor
Randy Lait, former senior director of hospitality services at NC State has been awarded the highest national honor in his field among his peers in collegiate dining operations.
Lait is to receive the 2019 Silver Plate Award from the International Foodservice Manufacturers Association(IFMA), the top awards for the foodservice industry in the United States.  He is being honored in the colleges and universities category. The award will be presented on May 18 in Chicago along with other recipients representing food service management from nine segments of the food service industry.
Lait has been integral to NC State Dining, starting as a student employee in the 1980s and progressing from unit manager to business manager, a position he held until 2009 when he was named the director of the campus dining program. Over the past 10 years, he has led an innovative team in transforming NC State Dining into one of the strongest programs in the country, with exciting food options and attractive venues. His program has set the pace for food management systems, mobile ordering, food transparency, wellness, and the delivery of nutrition and allergen data to customers.  Lait recently accepted a new role at NC State University as senior director of administrative services for Campus Enterprises.
"Being an IFMA Silver Plate recipient is a tremendous honor, knowing the names and reputations of the industry leaders who have received this award previously and the respect I have for them.  Now that my 35 years working in and then leading the dining program at NC State has come to an end, I have a unique opportunity to reflect on my career spent here and consider where we started, the challenges we overcame together, the great things we accomplished together, and my NC State family that has meant so much to me and of whom I am so very proud. Receiving the IFMA Silver Plate is the crowning achievement to my career in food service.  The success we experienced together is what made this award possible and I will forever be grateful for the opportunity to be a part of it." said Lait. "I want to thank everyone here at NC State, my colleagues in the industry, and the two companies that nominated me: Basic American Foods and Coca-Cola for their support in this achievement.
Under Lait's leadership, NC State Dining has received a number of accolades, including being recognized among the top 25 "College Power Players" by Food Management Magazine, top 50 College Dining Experience by College Rank, top 26 Healthiest Colleges by Greatist and Food Management Innovator of the Year, among others. NC State was also the first university to achieve the criteria of the Partnership for a Healthier America Healthier Campus initiative in 2015.
"Randy's leadership transformed the operation unlike anything NC State has ever seen: opening 12 new dining venues in two years, doubling annual revenues from $24.5 million in 2008 to more than $48 million today and growing meal plan annual revenues from $19 million to $26.3 million over the past five years," said Lisa Eberhart, NC State Dining's director of nutrition and wellness. "Rave! Events has doubled from $2 million to $4.2 million in sales. The culinary team now includes 27 culinary-trained chefs, including eight certified executive chefs, ensuring that customers receive high-quality nutritious, globally inspired food day in and day out. NC Dining has created ground-breaking innovations in food transparency and food allergen programs that deliver complete ingredient an accomplishment of which Lait is understandably proud."
Recently, Lait was instrumental in creating the Pack Meal Share program where students could designate unused guest meals at the end of the semester toward a pool for students facing short term food security. He has also championed a partnership with NC State's AgroEcology Education farm to fund a hoop house to extend the growing season and build a post-harvest pavillion in support of  fresh, campus-grown produce for campus dining operations.
As a leader and mentor, Randy prepares his staff members and student customers for life, and more, for living the best lives they can and to achieve their dreams. "There is a difference between what we do in Dining and just selling food," he explained. "Anyone can do that. We work to create a supportive atmosphere where people want to grow and learn and show what they can do as individuals, and also be a part of something bigger than themselves. Food can bring people together and help them live successful, long, and healthy lives. We believe we are an important part of student success at NC State and take pride in seeing our amazing students go on to achieve their ambitions."
Click here to learn more about Randy on Food Management's inaugural podcast, where Lait shares some breaking news about his role with NC State dining, reflects on winning the Silver Plate and how NC State's ice cream "saved my mother's life."