Shawn Hoch honored with Premier Award
Shawn Hoch, interim senior director for hospitality services, received the Premier Illuminating Excellence Award on June 19 for his outstanding foodservice contributions to the organization and to NC State.
Premier Inc. is a group purchasing organization, of which NC State participates along with more than 24,000 hospitals, universities, assisted living centers, state agencies and clubs.
Hoch, who has been participated in the Premier college committee for seven years, was recognized for his contribution to the committee and his innovation in college dining.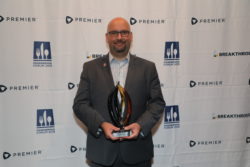 "I was very surprised and honored," Hoch said. "It is an opportunity to bring attention to our team and what we are doing at NC State and I am appreciative of the nomination by US Foods and Premier for this incredible award."
"The Premier GPO program and our distribution partner US Foods helps us to maintain a stable food cost and supply in spite of the turbulent marketplace," he said. " the savings on the program has been significant, which has allowed us to reinvest the savings back into the student experience at NC State. Having a voice on the committee helps our organization by identifying products that meet the needs of our students. It is more important than ever to communicate to manufacturers that our customers need to see cleaner labels, better-for-you ingredients, more plant-forward options and ingredients with fewer food allergies.
Hoch was recognized on June 19 during Premier's annual Foodservice Forum held in conjunction with its Breakthroughs Conference and Exhibition, which brought more than 4,000 provider and supplier attendees to Nashville, Tennessee.