Spring 2021 Dining Updates and Changes
NC State Dining is making modifications to its meal plans and operations for the Spring 2021 semester. Both will be active on the Friday before classes begin in the Spring Semester.
Meal Plans
NC State Dining evaluated meal plan options offered during the fall semester and made some revisions for the spring. These included the following:
Weekday Plan | This plan will be replacing the Dining Hall only plan. It includes all-day access to the campus dining halls Monday through Friday, 8 meal credits, 3 dining hall guest meals and 100 dining dollars. The plan will cost $1910 plus tax per semester and is available to all students.
Commuter Plus Plan | This new plan is primarily designed for students living off-campus who want more flexibility to eat on campus. It includes 80 meals that can be used either in the dining halls or campus restaurants and cafes, as well as 600 dining dollars that can be used anywhere and come with a 5 percent discount at the register. This plan will cost $1350 and is only available to students living in on-campus apartments or off-campus housing. 
Students will continue to be able to choose from the Flex, Flex Plus, Block 170 and Commuter Plan. While eligibility for certain plans was relaxed mid-fall semester due to more limited options, first-year students living in on-campus housing will be expected to choose from the Weekday Flex, Flex and Flex Plus plans for the spring. Details of these plans and eligibility can be found at dining.ncsu.edu/meal-plan-options. 
Students living on campus who downgraded their plans or were enrolled in the Dining Hall plan will be automatically enrolled in the Weekday Plan on January 15 unless NC State Dining is notified otherwise through the meal plan portal.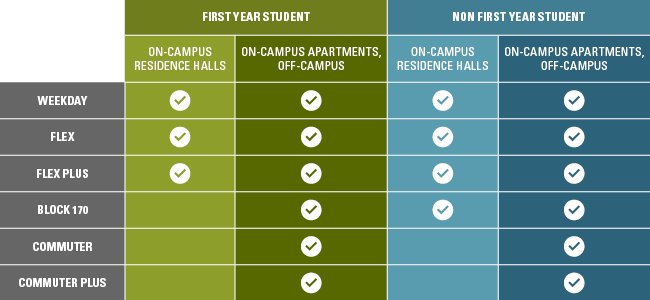 Dining Locations
NC State plans to open the following locations for the spring:
Fountain Dining Hall, Tuffy's Diner, Jason's Deli, Los Lobos, 1887 Bistro, Talley Market, Starbucks, Port City Java – Talley, and On the Oval. Red Sky will be converted to accommodate Sushi with Gusto. 
Case and Murphy Dining Hall will provide Evening Meal service to athletes. This line up is subject to change depending on the campus population. Additional dining locations may reopen throughout the semester depending on campus volume.
All locations will continue to uphold COVID safety precautions set forth by state and government health officials.  
Important Dates To Remember
November 1 – Sign-up for spring meal plans begins
November 24 – Fall meal plans end
January 15  – Spring meal plans begin
February 1 – Last day to change spring plans
May 14 – Unspent Dining Dollars expire