Nutrition Programs
Wolf Approved
Eat the Wolf Approved Way
Eating on campus is easier than ever. Marking selected items "Wolf Approved" is our way of helping you navigate and identify healthier items on campus. Look for the Wolf Approved paw print icon across campus on menu boards, vending machines, and in our C-Stores across campus to help you identify healthy items and snacks.
Entrees and snacks must meet the following criteria to be considered Wolf Approved:
| ENTREES | SIDES | VENDING & C-STORE SNACKS |
| --- | --- | --- |
| Less than 600 calories per serving | Less than 250 calories per serving | Less than 250 calories per serving |
| Less than 5 grams of saturated fat | Less than 2 grams of saturated fat | Less than 3 grams of saturated fat |
| No trans fat | No trans fat | No trans fat |
| Is not fried | Is not fried | Less than 15 grams of sugar |
Wolf Approved Tips:
Entrees: Look for 100 percent whole-grain options that have less than 6 grams of sugar and at least 4 grams of fiber.
Sides: Servings of fruit, vegetables, calcium or whole grains are also considered Wolf Approved. It is important to include foods that are rich in calcium into your daily diet, such as skim or 1% milk, low-fat yogurt and low-fat cheese.
Vending & C-Store Snacks: Snacks must have at least one nutritionally redeeming quality. No candy and beverages are included. Fresh, frozen or canned fruits and vegetables make great snacks.
Dietitian's Dish
We're Dishin' Out Healthy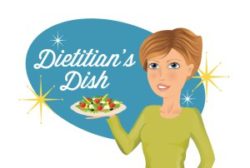 Many of us want to make healthy food choices, but are easily derailed by selections that look appetizing, yet are not nutritionally balanced to eat on a regular basis. Therefore, it can become overwhelming trying to figure out what we should and shouldn't be eating. The Dietitian's Dish offers a solution to those who want to eat healthy without sacrificing taste.
When you visit our on-campus Dining Halls on Mondays, look for the Dietitian's Dish table and learn how to make a healthy and delicious meal selected by our nationally recognized dietitian, Lisa Eberhart.
Fountain Dining Hall Dietitian's_Dish
Clark Dining Hall Dietitian's Dish
How it works:
Visit the dining halls on Mondays and look for our Nutrition staff wearing Dietitian's Dish T-Shirts. They can explain the daily Dietitian's Dish and why it's good for you.
Grab a plate and follow the numbered Dietitian's Dish identifiers in the serving area to create your own nutritious meal.
Check out the monthly Dietitian's Dish calendar to preview the dining hall selection and location for a certain day.
Ask the Dietitian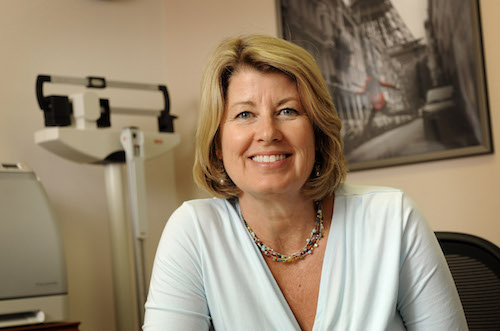 The hectic, unpredictable nature of college life can wreak havoc on your diet, especially when you have a food allergy or medical condition. Our registered dietitian and Director of Nutrition and Wellness, Lisa Eberhart, is available to help you meet your nutritional goals. Lisa can help you with a variety of dietary issues, including:
General nutrition information at the dining halls, restaurants and cafes across campus.
Identifying menu and ingredient information at our on-campus dining locations.
Assist with meeting special dietary needs, including allergies, intolerances and dietary preferences.
In addition, Student Health Services offers students free dietary consults with a registered dietitian to address dietary concerns or diagnosed conditions. Appointments can be scheduled online at healthypack.dasa.ncsu.edu/appointments or by calling 919.515.2563.