Sustainability Programs
We have created several partnerships with student organizations and professors across campus, including the NC State Sustainability Office, EcoVillage, Our Table and the NC State Aquaculture Program, to assist and align our sustainability goals.
NC State's Agroecology Education Farm provides hands-on education regarding sustainable agriculture to students, staff, faculty and the community. One of the Agroecology Farm's main goals is to produce fresh and healthy food items to be served at on-campus dining locations, extending sustainable agriculture education back to campus. Through our partnership with the farm, NC State Dining has provided funding for a new post-harvest facility, as well as a hoop house, which extends the growing season and provides nearly year-round vegetable production  In 2017, the six-acre site produced 9,027 pounds of crops for the dining program.  Hoop House Video Series: Building | Planting | Harvesting | Prepping + Serving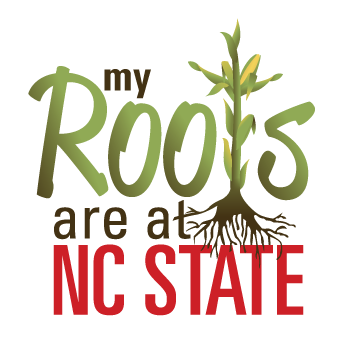 The nationally recognized "My Roots are at NC State" program connects NC State Dining with North Carolina growers, manufacturers, processors and producers to increase our ability to purchase locally and highlight the wealth of products grown and produced in our state. It also gives us an opportunity to share stories of NC State alumni working for these companies and how their work positively supports our efforts to provide the best food possible for our students, faculty and staff.

NC State Dining is committed to purchasing local foods whenever possible to support North Carolina agriculture and minimize the resources required to bring products to campus. We track our local purchasing and work to maximize partnerships with companies in our state. We highlight our suppliers at the entrance of campus dining halls, showing the companies we buy from and their locations relative to campus.