A Sustainable State
NC State has a long history of impacting the agricultural industry in North Carolina. As a land-grant university that has played a key role in revolutionizing the state's farming practices, NC State and its alums continue to define, refine and influence our agricultural practices 125 years later.
NC State Dining is proud to be a contributing partner in the university's overall sustainability goal to conserve energy, use resources wisely and reduce our carbon footprint. With over 40 campus locations, we're taking a lead role in opening avenues for North Carolina-based growers, producers and manufacturers to help meet that need by providing fresh, healthy and local ingredients.
Sustainability Initiatives

We began a composting initiative at our dining halls in August 2010 and at One Earth in Talley Student Union in 2014. The initiative became a reality when an audit by Waste Reduction and Recycling found that 70% of waste generated by Fountain Dining Hall was compostable. In 2018, Talley Student Union collected 100.57 tons of compost to send to the onsite compost facility that helps complete the loop of the food eaten on campus. The composting initiative has helped NC State decrease the amount of waste sent to landfills.

Our dining hall take-out program, Pack&Go, features a reusable and recyclable take out container that can be used in our dining halls in exchange for a meal credit. Since March 2009, this program has diverted more than 208,500 styrofoam to-go containers from the landfill.

NC State Dining works with GreaseCycle to collect and upcycle oil waste (~9742.5 gallons in 2019). The organic waste is converted into biodiesel fuel and composting soil. Not only is the oil being put to good use, but it also is collected at no cost to us, saving thousands of dollars each year.

While drought conditions in early 2008 prompted us to conserve water by removing trays from our three dining halls, we then decided to make the change permanent. With this change, we conserve an average of 51,000 gallons of water weekly. Food waste and energy usage are down, too. By going trayless, we've saved more than 21 million gallons of water. That's enough to fill over 30 Olympic-sized swimming pools!
Through a partnership with the Office of Sustainability, NC State Dining began reducing plastic waste by eliminating single-use plastic bags at the Atrium Food Court and Markets on campus. Reusable bags are now available for purchase at these locations, diverting over 95,000 plastic bags from the landfill since implementation. NC State Dining has also contributed to the Sustainable Tracking, Assessment and Rating System (STARS) gold rating for the university's overall sustainability performance.
We have implemented several waste reduction and recycling efforts throughout each of our dining locations, including:
Reusable dinnerware in the dining halls instead of disposables;

Cardboard and paper recycling at all locations;

Plastic bottle and aluminum can recycling in most locations;

HVAC upgrade at Fountain Dining Hall to improve energy efficiency;

Use of electronic media to reduce paper use; and

Operating the Cbord Food Management System, a sophisticated computerized food production system. It is designed to drastically reduce waste through "just in time" purchasing methods and eliminate food waste through overproduction.
[/linked_section]


Sustainability Programs
We have created several partnerships with student organizations and professors across campus, including the NC State Sustainability Office, EcoVillage, Our Table and the NC State Aquaculture Program, to assist and align our sustainability goals.
NC State's Agroecology Education Farm provides hands-on education regarding sustainable agriculture to students, staff, faculty and the community. One of the Agroecology Farm's main goals is to produce fresh and healthy food items to be served at on-campus dining locations, extending sustainable agriculture education back to campus. Through our partnership with the farm, NC State Dining has provided funding for a new post-harvest facility, as well as a hoop house, which extends the growing season and provides nearly year-round vegetable production  In 2017, the six-acre site produced 9,027 pounds of crops for the dining program.  Hoop House Video Series: Building | Planting | Harvesting | Prepping + Serving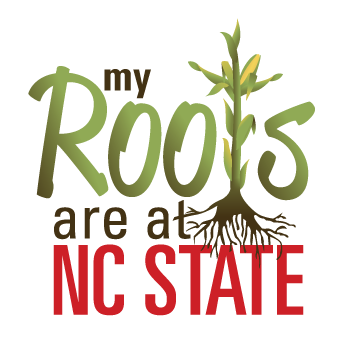 The nationally recognized "My Roots are at NC State" program connects NC State Dining with North Carolina growers, manufacturers, processors and producers to increase our ability to purchase locally and highlight the wealth of products grown and produced in our state. It also gives us an opportunity to share stories of NC State alumni working for these companies and how their work positively supports our efforts to provide the best food possible for our students, faculty and staff.

NC State Dining is committed to purchasing local foods whenever possible to support North Carolina agriculture and minimize the resources required to bring products to campus. We track our local purchasing and work to maximize partnerships with companies in our state. We highlight our suppliers at the entrance of campus dining halls, showing the companies we buy from and their locations relative to campus.