Women in Dining Spotlight Series: Jennifer LeGrande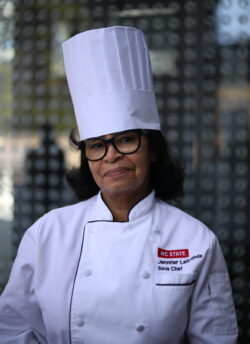 Why did you decide to become a chef?
I've been cooking from scratch since I was 12 years old.  There was no other way in our household! My very first meal was head on Shrimp Scampi and Eclairs.  My parents were having friends over for dinner and they must have trusted me with the cooking.  The meal was a huge success and is still talked about 40 years later!   This is my second career, I went back to school in 1990 and graduated from Johnson & Wales. It has been quite an adventure.
How long have you worked at NC State?
This will be my 3rd year with NC State as a Floating Sous Chef.  I have had the opportunity to work with several talented female Chefs, and this month is a shout out to them!   
What is your favorite thing to make?
Growing up in NY, Italian cuisine has always been my jam!   I have chosen to make my signature dish; Chicken Cannelloni, because it is my daughter's favorite dish.  I always make enough to share and it quickly becomes everyone's favorite.  Bon Appetit.

Chef Jennifer's Famous Chicken Cannelloni
6 boneless skinless chicken breast
2 Tbsp. Butter
1 Tbsps.  Olive oil
1 Tbsp. Fresh rosemary finely minced
2 cloves garlic- minced
1 medium onion – small dice
Salt and pepper
1 egg
2 cups fresh or frozen spinach chopped and drained
Tomato Sauce*
White Sauce**
½ cup of Sherry wine
Sear the chicken breasts in the butter and oil, until light brown. Set aside to cool. In the same pan sauté the garlic, rosemary, and onion until translucent. Deglaze with the Sherry wine.  Chop the chicken into small pieces and add to the onion mixture.  Add the egg, and mix well to combine.  Add the spinach, ½ cup of white sauce and ½ cup of the tomato sauce. 
Cook the manicotti noodles, and stuff with the chicken spinach mixture.  Pan spray a pan, and add some of the tomato sauce to cover the bottom.  Place the manicotti noodles on the sauce.  Top with the white sauce. Then top with the rest of the tomato sauce and cover with ½ cup of Parmesan cheese, and 2 cups of Mozzarella cheese.  Bake at 350 for 30 to 40 minutes.  The top should be lightly browned.
*Tomato Sauce
1 large can of Roma tomatoes
1 large can of tomato sauce
1 small can of tomato paste
1 Tbsp. OOV
2 cloves of minced garlic
1 medium onion, small dice
1 Tbsp. fresh Rosemary, finely minced
1 Tbsp. fresh Oregano, finely minced
1 cup red wine
Pinch of sugar
Salt and pepper to taste
Sauté the onion and garlic until translucent, add the herbs and deglaze with the red wine.  Add the tomato paste, tomatoes and sauce.  Add the pinch of sugar. Stir well and simmer over medium low heat for at least 40 minutes.
**White Sauce
 1 cup of butter, melted
1 tsp. salt
1 cup of AP flour
½ tsp. of fresh grated nutmeg
Pepper to taste
 4 cups of half & half
Melt the butter in a medium sauce pan and stir in the salt and flour.  Stirring continually over medium heat until the flour is dissolved, and light blonde in color. Whisk in the half and half, and whisk until the sauce comes together and has thickened. Cook for at least 4 minutes, stirring constantly.  Add the nutmeg and taste for additional salt.