NC State Dining Chef Awarded Chapter Pastry Chef of the Year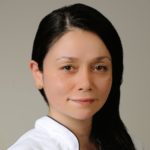 NC State Pastry Chef Yolanda Santiago, CEPC, was awarded the 2017 American Culinary Federation Raleigh-Durham Chapter's Pastry Chef of the Year. The honor was awarded based on chapter-member votes and was presented at the ACF Inaugural Chef's Ball held at The StateView Hotel on January 20, 2018.
Chef Yolanda has been a vital team member of NC State Dining for over four years. Throughout her employment at NC State, Chef Yolanda has received her Certified Executive Pastry Chef (CEPC) certification through the American Culinary Foundation. She has won several awards in ACF sanctioned baking competitions, including a gold medal at Wake Tech's Annual Pastry Show for her celebration cake entry. She was an inaugural member of the NC State Chef Circle recognizing significant culinary achievement. Chef Yolanda also led the NC State Dining pastry team in fall 2017 while the executive pastry chef was on leave.
NC State Dining is a service of Campus Enterprises, the lead division for retail and hospitality on campus. For more information on NC State Dining, contact Lindsay Hester at lphester@ncsu.edu.