NC State Dining Starts School Year with New Updates and Improvements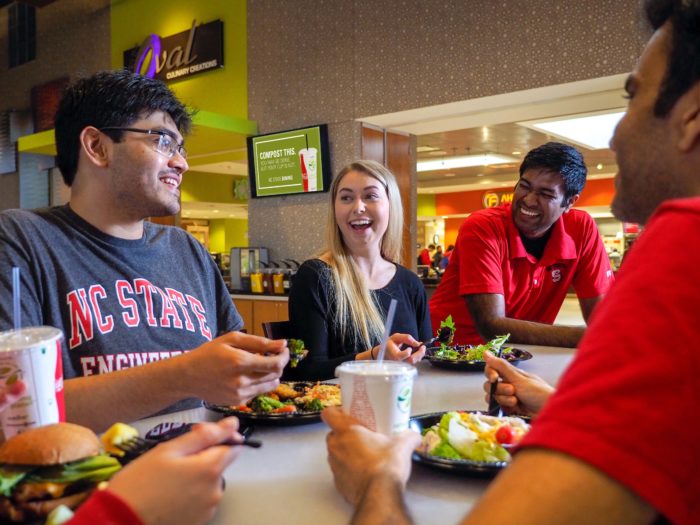 NC State Dining is kicking off the 2018-2019 school year with improvements not only to meal plans but also to its operations.
Meal Plans: Meal Credit rates have been increased at most restaurants and cafes on campus to offer more buying power for students using their meal plan. To view the current rates, visit go.ncsu.edu/meal-credits, or check out the Meal Credit rate sticker by the register at each dining location.
Dining Halls: Fountain Dining Hall has refreshed its ceiling and lights in the serving areas, resulting in a brighter atmosphere for diners to view the many menu items and action stations available. Additional theme meals have been added during the lunch meal period for more opportunities to experience delicious cultural menus from A Taste of Latin America to A Taste of India. Visit dining.ncsu.edu/events to view event information.
Case Dining Hall received a makeover including new tile floors and graphics installed throughout the serving and eating areas. The outdoor patio has also been covered to offer additional dining room seating.  
Atrium Food Court: Chick-fil-A at the Atrium Food Court received a facelift to reflect the current Chick-fil-A brand. Additional Chick-fil-A favorites have been added to the menu, including hand-spun milkshakes, frosted lemonade and cool ranch wraps. Staff will help direct guests through the new lines during the start of the semester to ease confusion and assist with line flow.
Talley Student Union: One Earth World Cuisine will feature new weekly rotational menus at the Global station that include options such as Polynesian, Columbian, German, Indian, and more. The new make-your-own salad bar is a hit with guests, featuring compostable to-go containers.
Tuffy's Diner has added fresh, garden and Caesar salads to the menu with the option to top it with chicken. French toast is the latest addition to the breakfast menu, which will pair nicely with the new fruit cups. Also, you can now substitute fries with a cup of fruit or locally-made Carolina Kettle chips.
Along with the new vegan and vegetarian pizza, Red Sky has added made-to-order pasta with choice of sauce to its lineup of house-made menu items.
Talley also has a new rooftop garden with raised beds for planting vegetables and herbs that will be harvested for menu items. The rooftop garden can be viewed through the observation window near Talley Room 5101.
On the Oval Culinary Creations: In addition to new menu items, On the Oval will launch a new create-your-own salad bar this fall with a selection of composed salads, toppings and dressings.
Vending Machines: Coca-Cola vending machines have been equipped with the latest state-of-the-art vending technology. By taking full advantage of the latest near field communication (NFC) technology, each Coca-Cola machine houses a payment system capable of accepting mobile wallet payments, including Apple Pay, Google Pay, Samsung Pay, granting the convenience and ability to now pay for purchases with the tap of a smartphone. Machines will continue to accept the meal plan and All Campus accounts via the Wolfpack One ID Card, credit/debit cards, cash, and coins.
Compostable Items: NC State Dining continues to extend its lineup of compostable cups and containers throughout its locations. All Coca-Cola cups, lids and straws are compostable at Talley Student Union and On the Oval Culinary Creations. Look for the compost bins and point of disposal signage to see images of compostable containers. 
C-Stores: In partnership with Feed the Pack – the NC State Food Pantry, Honors Village C-Store has been converted into a new space for Feed the Pack to assist in their ongoing mission to combat the food insecurity experienced by members of the Wolfpack family. For more information on NC State's Food Pantry and how to donate, visit feedthepack.dasa.ncsu.edu.
NC State Dining is a service of Campus Enterprises, the lead division for retail and hospitality on the NC State campus. For more information, contact Lindsay Hester at 919.513.0543 or via email at lphester@ncsu.edu.