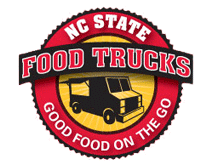 Food Truck Schedule
Raleigh-area food truck vendors bring a variety of lunchtime options to Centennial Campus. The food trucks provide service between 11:30 a.m. and 1:30 p.m. each weekday across from the Venture Center Courtyard between Venture I and Venture II on Centennial Campus.
To see the latest schedule for food trucks on NC State Centennial Campus, check out Street Food Finder and the NC State Centennial Campus "hot spot".
If you are food truck vendor who is interested in participating, look for open schedule spots on that hot spot. If you have questions, reach out to via email to ncstatefoodtrucks@ncsu.edu.