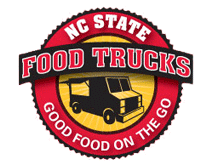 NC State Dining has partnered with independent, Raleigh-area food truck vendors to bring a variety of lunchtime options to underserved areas of the campus. The food trucks provide service between 11:30 a.m. and 1:30 p.m. each day (individual schedules may vary) in front of Venture II-A and II-B on Centennial Campus. Vendors and schedule are subject to change.
Food Truck Schedule
Gmail users can follow these steps to add the food truck schedule to their personal Google Calendar.
Click the Food Truck Calendar Link.
Select the +Google Calendar button in the bottom right corner.
Enjoy! The Food Truck Schedule is available on your personal Google Calendar.
Jul 1

Wednesday | 11:30 am - 1:30 pm
Cockadoodlemoo
930 Main Campus Dr, Raleigh, NC 27606, USA

Wednesday | 11:30 am - 1:30 pm
Crispy Gyoza
930 Main Campus Dr, Raleigh, NC 27606, USA

Jul 2

Thursday | 11:30 am - 1:30 pm
Bam Pow Chow
930 Main Campus Dr, Raleigh, NC 27606, USA

Thursday | 11:30 am - 1:30 pm
Queso Monster
930 Main Campus Dr, Raleigh, NC 27606, USA

Jul 3

Jul 6

Monday | 11:30 am - 1:30 pm
The Humble Pig
930 Main Campus Dr, Raleigh, NC 27606, USA

Monday | 11:30 am - 1:30 pm
Qspresso
930 Main Campus Dr, Raleigh, NC 27606, USA

Jul 7

Tuesday | 11:30 am - 1:30 pm
Chick-N-Que
930 Main Campus Dr, Raleigh, NC 27606, USA

Tuesday | 11:30 am - 1:30 pm
Rare Earth Farms
930 Main Campus Dr, Raleigh, NC 27606, USA

Jul 8

Jul 9

Thursday | 11:30 am - 1:30 pm
Taco Grande
930 Main Campus Dr, Raleigh, NC 27606, USA

Thursday | 11:30 am - 1:30 pm
Baltic Bites
930 Main Campus Dr, Raleigh, NC 27606, USA

Jul 10

Friday | 11:30 am - 1:30 pm
Mama Voula's
930 Main Campus Dr, Raleigh, NC 27606, USA

Jul 13

Monday | 11:30 am - 1:30 pm
Mr. Mongolian
930 Main Campus Dr, Raleigh, NC 27606, USA

Jul 14

Tuesday | 11:30 am - 1:30 pm
Tacos Las Gringas
930 Main Campus Dr, Raleigh, NC 27606, USA

Tuesday | 11:30 am - 1:30 pm
Moonrunners
930 Main Campus Dr, Raleigh, NC 27606, USA

Jul 15

Wednesday | 11:30 am - 1:30 pm
Cockadoodlemoo
930 Main Campus Dr, Raleigh, NC 27606, USA

Wednesday | 11:30 am - 1:30 pm
Crispy Gyoza
930 Main Campus Dr, Raleigh, NC 27606, USA

Jul 16

Thursday | 11:30 am - 1:30 pm
Queso Monster
930 Main Campus Dr, Raleigh, NC 27606, USA

Thursday | 11:30 am - 1:30 pm
Bam Pow Chow
930 Main Campus Dr, Raleigh, NC 27606, USA

Jul 17

Jul 20

Monday | 11:30 am - 1:30 pm
The Humble Pig
930 Main Campus Dr, Raleigh, NC 27606, USA

Monday | 11:30 am - 1:30 pm
Qspresso
930 Main Campus Dr, Raleigh, NC 27606, USA

Jul 21

Tuesday | 11:30 am - 1:30 pm
Chick-N-Que
930 Main Campus Dr, Raleigh, NC 27606, USA

Tuesday | 11:30 am - 1:30 pm
Rare Earth Farms
930 Main Campus Dr, Raleigh, NC 27606, USA

Jul 22

Wednesday | 11:30 am - 1:30 pm
Medley
930 Main Campus Dr, Raleigh, NC 27606, USA

Wednesday | 11:30 am - 1:30 pm
Chirba Chirba
930 Main Campus Dr, Raleigh, NC 27606, USA

Jul 23

Thursday | 11:30 am - 1:30 pm
Baltic Bites
930 Main Campus Dr, Raleigh, NC 27606, USA