NOTICE: Due to the reduced presence on campus, and significantly reduced demand, we have suspended the food truck program for the remainder of the Fall 2020 semester.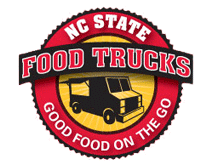 NC State Dining has partnered with independent, Raleigh-area food truck vendors to bring a variety of lunchtime options to underserved areas of the campus. The food trucks provide service between 11:30 a.m. and 1:30 p.m. each day (individual schedules may vary) in front of Venture II-A and II-B on Centennial Campus. Vendors and schedule are subject to change. If you are interested in participating as a vendor in our food truck program, please email us at ncstatefoodtrucks@ncsu.edu.
Food Truck Schedule
Gmail users can follow these steps to add the food truck schedule to their personal Google Calendar.
Click the Food Truck Calendar Link.
Select the +Google Calendar button in the bottom right corner.
Enjoy! The Food Truck Schedule is available on your personal Google Calendar.
There are no upcoming events.