National Peanut Lovers Day
Celebrate Peanut Lovers Day with Peanut Butter
By: Lindsey Childs, Sophomore, Applied Nutrition major
The introduction of peanut butter to the American public at a St. Louis world fair in 1904 would change the American palette forever. Believed to have originated in the Incan Empire, peanut butter became a staple in the American diet during World War I and has remained popular since. Its versatility, long shelf life, and delicious flavor have attracted many people to its nutty goodness; in fact, the average American eats 6 pounds of peanut butter and peanut butter products in a year. As a fellow peanut butter lover myself, and In recognition of National Peanut Lovers Day, I have decided to share some interesting facts about peanut butter as well as recipes featuring the product many of us adore. 
Peanut butter is a good source of copper. Copper is a mineral that maintains our bone health, immune system response, and blood vessels. Adequate copper intake may reduce one's risk of developing osteoporosis and heart disease. Foods that are good sources of copper include meats, oysters, and lobster, which may not be accessible to some due to cost, lifestyle, or allergies. Being cheap and abundant, peanut butter could deliver the copper needed in one's diet. Other than copper, peanut butter is a good source of vitamin E, niacin, vitamin B6, manganese, and magnesium.
Peanut butter contains oleic acid. Oleic acid is a monounsaturated fat that is a source of omega-9 fatty acids. Monounsaturated fats are preferable sources of fat for the body because they are linked to health benefits like lower LDL cholesterol levels, lower blood pressure, and lowering the risk of heart disease. This fatty acid is also in peanut oil for people who prefer a nutty flavor to their dishes when cooking.
Peanut butter is a good source of fiber. According to research, fiber is something that most Americans are lacking in their diet. It is recommended that American women consume 25 g per day and men consume 38 g per day; on average, Americans consume only 10-15 g of fiber per day. 2 tablespoons of peanut butter will supply 2-3 g of fiber, which coupled with a diet rich in whole grains, vegetables, and fruits, will aid one in achieving the recommended daily amount. Nuts and seeds tend to be high in fiber.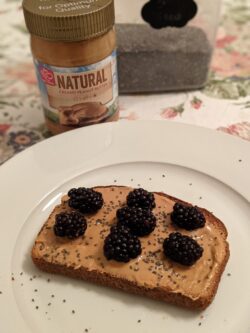 The top-selling confectionery products in the USA contain peanut butter and chocolate. Are we surprised by this one? Chocolate and peanut butter is the quintessential combination to pack a delicious flavor. Along with confectionary products (peanut butter brownies anyone?), chocolate peanut butter candies are very popular as well as shakes and smoothies.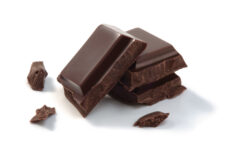 Below are some examples of recipes to try this National Peanut Butter Lovers Day! They are all available at: https://nutritiouslife.com/?s=peanut+butter&post_type=recipe 
Chocolate Post-Workout Smoothie:
1 cup of chocolate milk
½ cup frozen blueberries
1 tablespoon peanut butter 
1 scoop chocolate vegan protein (or dairy)
Instructions:
Place all ingredients in blender.
Pour into glass and enjoy!
Fudgy Peanut Butter Blondies
2 tablespoons ground flax meal (can substitute chia seeds)
⅓ cup of water
1 cup creamy peanut butter
½ cup unsweetened applesauce
⅓ cup maple syrup
1 cup almond flour (or flour of choice)
1 tsp vanilla extract
1 tsp baking soda
¼ tsp salt
½ cup dark chocolate, chopped
Instructions:
Preheat oven to 350 degrees. Line 8×8-inch pan with parchment paper.
Mix flax meal with filtered water and allow to gel for 10 minutes while preparing other ingredients.
In a large bowl, beat together peanut butter, apple sauce, maple syrup, vanilla extract, and soaked flax meal mixture.
Sift in almond flour, maca powder (if using), baking soda, and fine sea salt. Mix together with wet ingredients until the batter is smooth and uniform.
Fold in chopped dark chocolate and transfer mixture to prepared baking pan. Sprinkle top with a pinch or two of flakey sea salt.
Place blondies on the middle oven rack and bake at 350 degrees for 20 to 25 minutes, until the edges are starting to brown.
Let sit for 10 minutes. Remove from pan using parchment paper and place on wire rack to cool completely before slicing.
Blondies will keep at room temperature for several days or in the refrigerator for up to one week.
Peanut butter yogurt
6 oz Greek yogurt
2 tsp natural peanut butter
½ tsp cinnamon
Instructions:
Mix yogurt and peanut butter together. Top with cinnamon.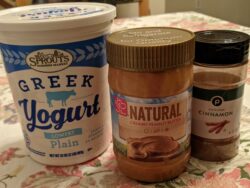 References:
https://nutritiouslife.com/?s=peanut+butter&post_type=recipe
https://www.nationalpeanutboard.org/peanut-info/history-peanuts-peanut-butter.htm
https://www.webmd.com/diet/peanut-butter-good-for-you#1
https://www.naturalfoodseries.com/13-health-benefits-peanut-butter/
https://www.webmd.com/vitamins/ai/ingredientmono-1614/oleic-acid
https://www.healthline.com/nutrition/foods-high-in-copper#TOC_TITLE_HDR_2